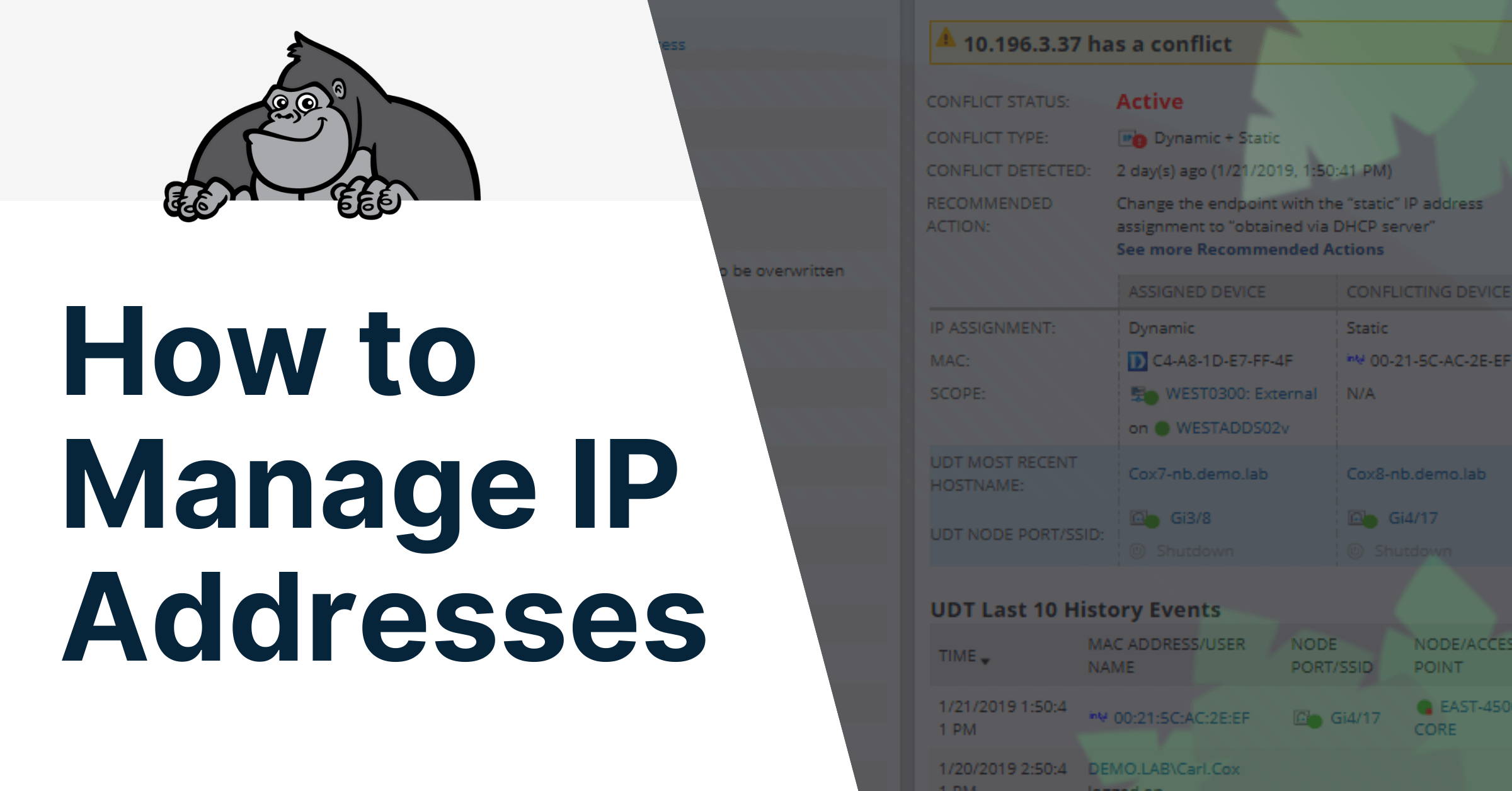 Network Monitoring Tools
How to Manage IP Addresses
Internet Protocol (IP) address are unique numbers assigned to network connected devices to allow them to communicate on a network. They can be assigned manually to every device, but it is far more common to assign them dynamically with the use of DHCP. The basic function of delegating IP addresses in a Local Area Network can be quite easy, but it can quickly get out of hand depending on the number of devices or if there is a rapid growth in the devices needing to be connected.
For years company's have been keeping manual logs of devices and ip addresses, keeping a running list that is then shared amongst the staff. This can function, but is prone to errors, and administrators may even forget to update the document or spreadsheet. This can cause IP address and subnet delegation problems, and can lead to devices losing networking functionality, errors, downtime, and confusion from the IT staff.
Thus, an automated solution is needed. The features should include:
Automatically populate with IP addresses that are found on the network
Scan for new devices and changes in the IP addresses
Automatically update IP Address usage
Provide Feedback with reports, errors, and problems
Centralized application to monitor and manage IP addresses
Fortunately, there are many applications that fill this need exactly. There are two main categories of applications. First, we will look at a simple and more affordable option, and second we will look at a complete management package that is tailor made for large extensive IP networks.
IP Address Trackers
If a network is small, not rapidly expanding, or has little DHCP and DNS integration, having a full IP Address management system may not advisable. The expensive large applications will not be fully utilized and may end up being a waste of money and computer resources. Instead, system administrators might consider using an IP Tracker which includes certain features from the more advanced applications. The IP Tracker applications are stripped down simpler versions of the more extensive IP Management software.
One example of these applications is SolarWinds IP Address Tracker. Which is free software provided at this link: SolarWinds IP Address Tracker
Features
SolarWinds IP Address Tracker (Download link) –  SolarWinds' IP Tracker is a comprehensive freeware that has features useful to administrators and technicians everywhere. It is not only aimed for small enterprise networks but also for mid-size networks. It offers a range of features including:
Managing up to 254 IP Addresses
IP conflict detection
Alerts
Detailed IP histories
Event log
Subnet monitoring
However, since this is an IP tracker it cannot interact with DNS and DHCP Servers, limiting the manageability of the product.
Below is a sample screen from this tool. IP addresses on a subnet can be viewed in "IP Address View" for editing and viewing. IP address status can be set-up in this view as well as the detail information of every IP address on a subnet. Scanning can also be performed in this view.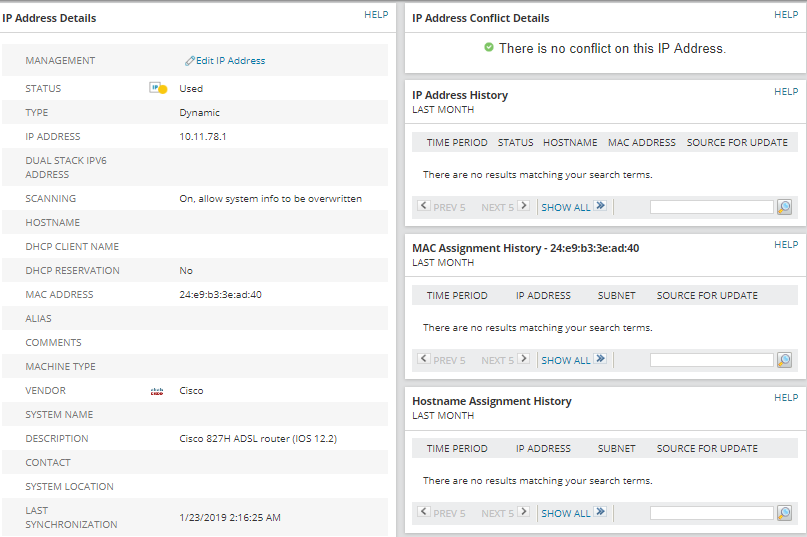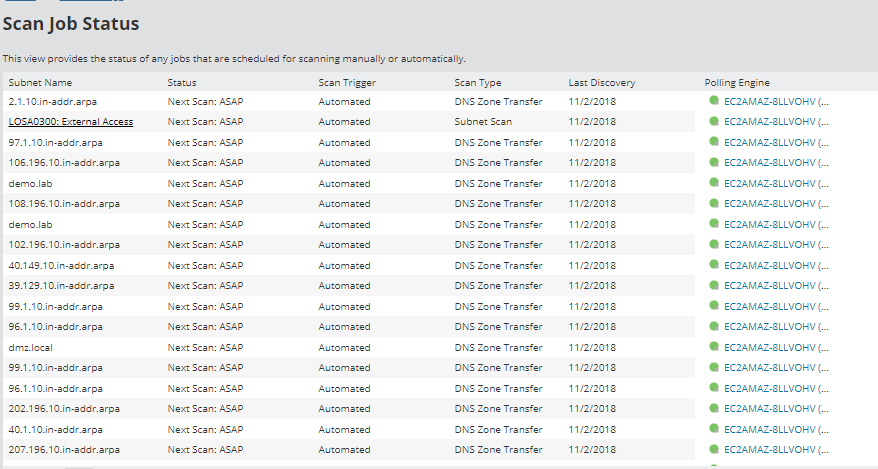 It has also "Chart View" for reporting purposes.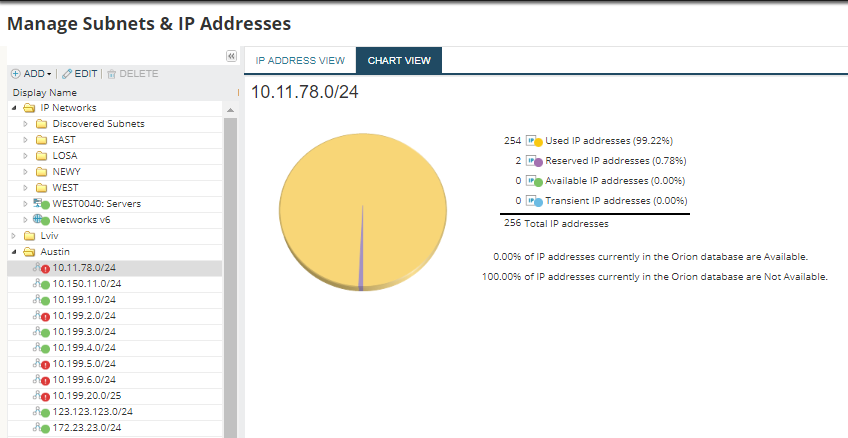 Overall SolarWinds IP Tracker is extremely useful for a free management applications and c an be used in many scenarios involving small networks. Used in the right situation IP Tracker can be a powerful tool in creating and manageing ytour small to medium sized network. Feel free to try out SolarWinds IP Tracker here:
However, it obviously suffers when being used in larger scale networks in terms of monitoring, manageability, and centralization. That is where the larger management applications come in…
IP Address Managers
IP address managers are complete management applications that fully integrate into the IP addressing infrastructure. SolarWinds has created software called IPAM or IP Address Manager which includes features to completely manage all IP address functionality in you network. It provides storing, tracking and managing of IP addresses, along with extensive integration with multivendor DHCP and DNS servers. When IPAM is configured with a DHCP and a DNS server it is called a DDI System (DNS, DHCP and IPAM) which is considered a dynamic addressing system. Having a full DDI system means using all the features of IPAM. Listed below are some of the main features of the IPAM:
Automated IP address tracking
Automated subnet and IP address discovery. Schedule new scans, and easily avoid IP address conflicts, enabling simple expansion and growth. Furthermore, it automatically discovers subnets and requires little to no manual entry of ip address records. Limiting errors and increasing the user productivity.
Integrated DHCP, DNS, and IP address management
Save time and enhance network reliability with integrated multi-vendor DHCP, DNS, and IP address management. Manage DHCP scopes, find available addresses, and edit DNS records all from the IPAM dashboard, providing a full DDI platform.
IP address alerting, troubleshooting, and reporting
Automate and increase visibility by creating alerts and reports outlining potential conflicts, new addresses and address statistics.
Automate static IP address requests
SolarWinds IPAM IP Request Form automates static IP requests to speed the deployment of new devices. Furthermore, limit access for users via permissions, making sure that administrators can keep there IP networks under control while still allowing other users and technicians to make requests and changes.
Below is a sample screen shot of this tool where it was implemented in full DDI Solution. We can see utilization of each subnets, IP address conflicts, DHCP Scopes by Utilization and even DNS records mismatch,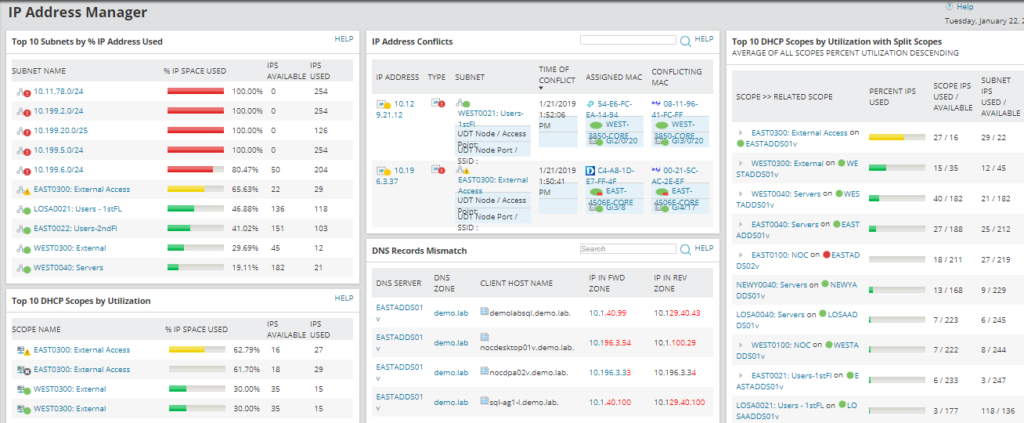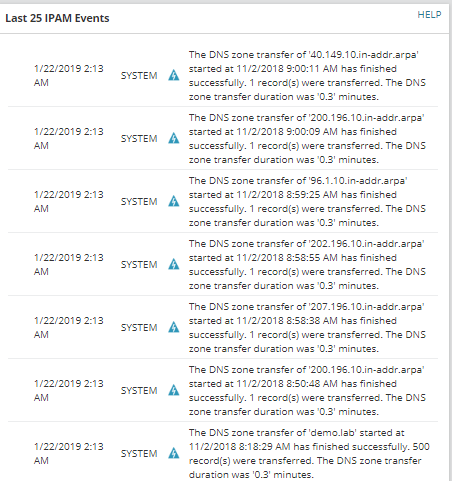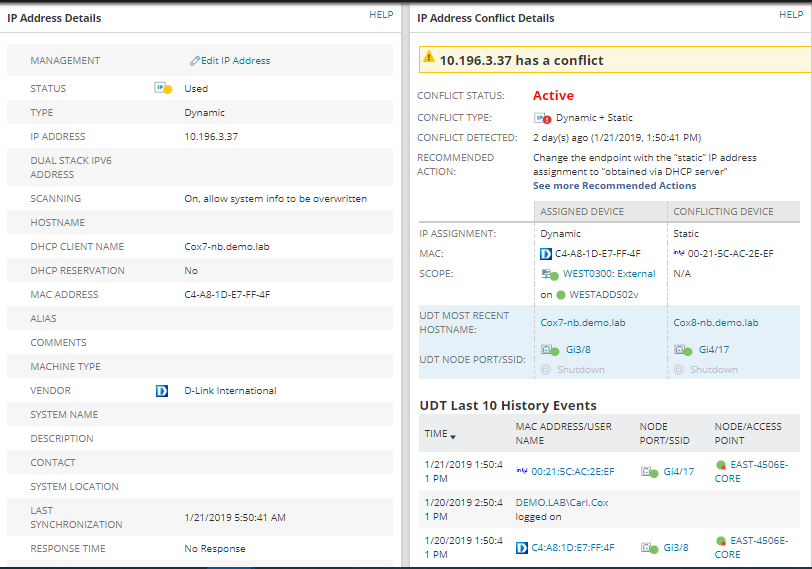 SolarWinds is one of the most trusted and well-established names in network management, and their IP Address Manager (IPAM) is one of their core products widely used in the industry. IPAM's functionality exceeds expectations with it's all in one monitor and configuration capabilities. Furthermore, its customizable dashboard provides a neat and orderly display of managed DHCP, DNS and IP addresses, which is extremely helpful for troubleshooting network issues. With all this in mind, SolarWinds IPAM is a fantastic tool that provides important information, great performance, and simple design to make a great product built for large, dynamic and critical networks.