What's a Gorilla Guide?
Gorilla Guides are short, highly consumable books intended to help lead you through the IT technology jungle.
Developed by the expert IT trail guides at ActualTech Media, Gorilla Guides bring clarity to important and trending enterprise technologies solutions. These highly popular guides help you understand how these solutions work and, more importantly, how they may fit into your IT organization.
Gorilla Guides are designed to be your constant companion as you make the journey into new technologies and take your IT organization into the future!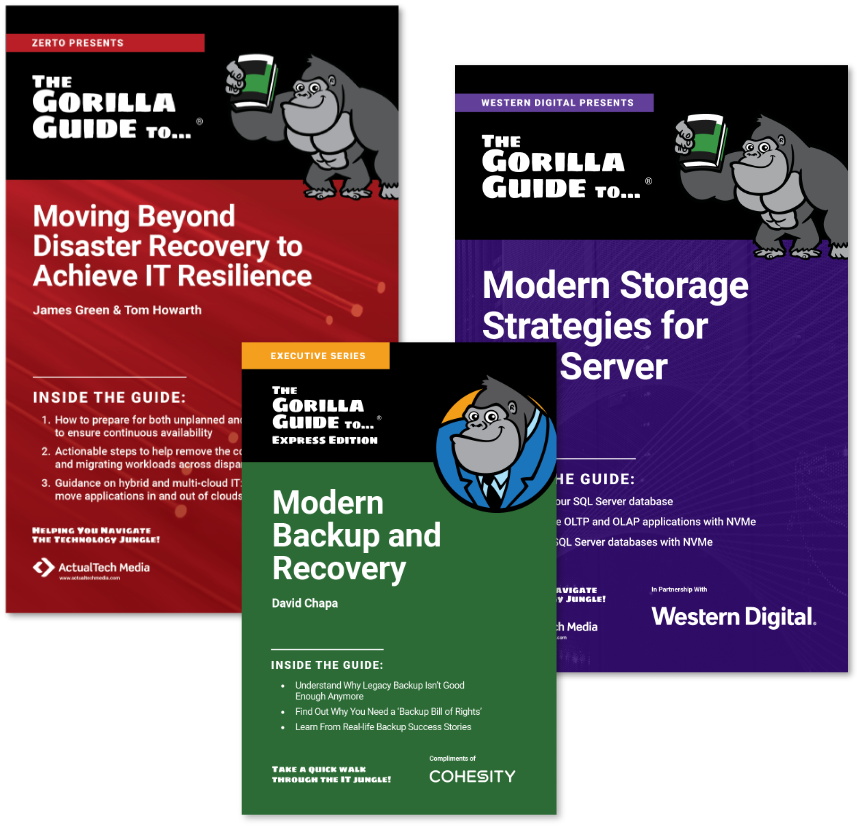 About ActualTech Media
Founded in 2012 and led by data center technology experts Scott D. Lowe, David Davis, Geordie Carswell and James D. Green, ActualTech Media has quickly grown into an IT learning powerhouse.
At ActualTech Media, we truly understand the pressures IT leaders are under because we've personally been there, facing these same challenges. We've actually previously been CIOs, IT Managers and Infrastructure Architects. We've lost sleep due to outages; we've fretted over backup and recovery; we've created paths forward for businesses large and small.
We're here to help IT pros in every way we can to navigate the technology jungle!

Written by Industry Experts
It's been said you don't really understand a topic until you can explain it simply. Our authors are true subject matter experts that know how to do just that: to take a complex, tangled technology concept or IT challenge and break it down into a simple, consumable book that easy to read, but still has the technical depth that IT pros and decision makers need to thoroughly understand the topic at hand.