Need strategic content on time and within budget? We've got you covered.
ActualTech Media's playful Gorilla Guide® brand is loved by IT buyers and professionals around the globe.
With over 60 subject matter experts AND the best IT content production team in enterprise IT, we are here to get it done for you on time!
👉 Ebooks (Long and Short, Static and Interactive)
👉 Tech Brief Papers
👉 Videos (Full Length and Social-Ready)
👉 Infographics & Guide Maps
👉 Custom Podcasts
👉 Blog Posts
👉 Full Content Marketing Strategy
Plus: Guaranteed Demand Generation Program Options!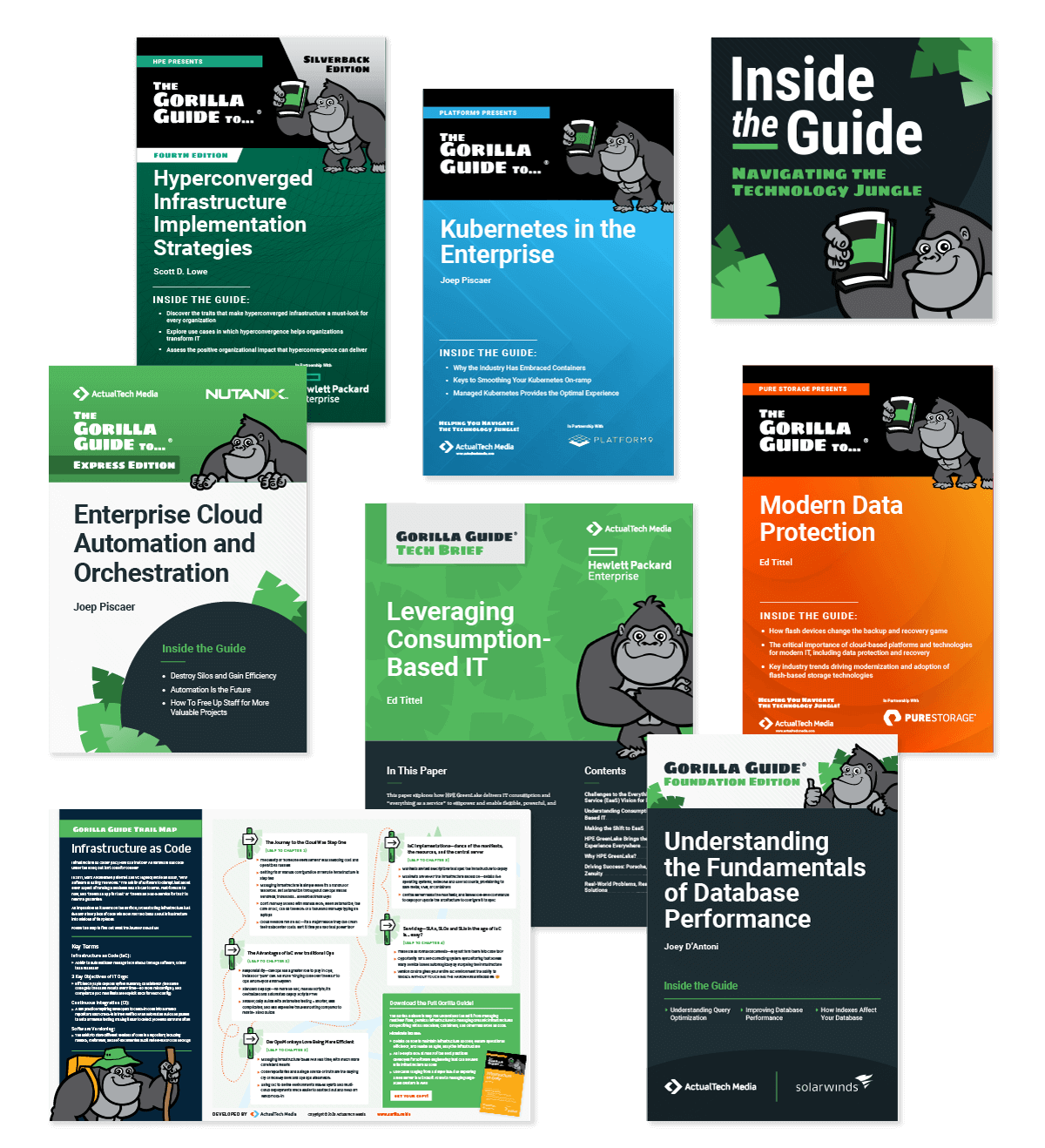 Why Choose Gorilla Guides for Expert IT Content?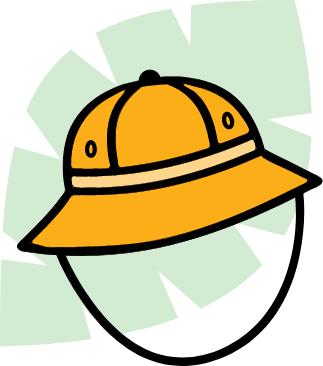 Over 60 of the Top Authors in Enterprise IT
Recognized industry authors with the established expertise needed to hit the ground running!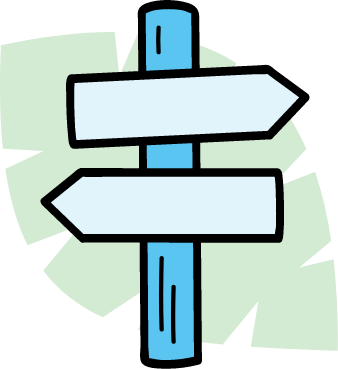 Fast, On-Time Delivery & Proven Processes
Low-touch production processes that make sure your content is delivered on-time and on-message.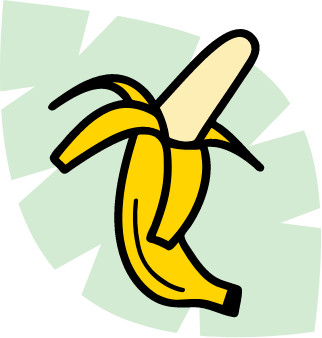 The Extras That Matter
Full content rights without renewal costs, your choice of form factors, no artificial page count limits, and over 70+ available languages!
"ActualTech Media truly understands the technology we're trying to educate the market on. They deliver on time, every time, exceeding our expectations. We know they're going to over-deliver."

- Marianne Budnik, CMO at Crowdstrike
Every Custom Gorilla Guide® Content Asset Includes:

Recognized, expert authors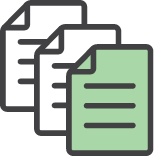 Professional copy and technical editing

Digital format & high-quality printed books delivered to your doorstep

Professional graphics layout

Custom, detailed technical diagrams

Full content rights without renewal costs
How the Custom Gorilla Guide Program Works
Connect with ActualTech Media
A call with us helps us understand your content goals, priorities, and timeline allowing us get the right people at the right time to make your project a success.
Gorilla Guide Development Plan
Through our turn-key discovery process, we work with you to understand how we can best tell your technology story with the right focus for the right audience.
Production & Launch
Our time-tested process includes a detailed writing and review map after which we deliver your launch-ready Gorilla Guide and supporting assets.
Gorilla Guide Silverback Edition – One Book, Many Assets
Some topics require more content and that's where Gorilla Guide Silverback Edition comes in. These 9-chapter, information-packed books provide clients with a meaty content bundle that educates and converts.
Silverback Gorilla Guides include multiple smaller, persona specific whitepapers to help extend your Gorilla Guide even further! All the benefits of a Gorilla Guide including:
1,000 physical printed copies of your book, delivered to your doorstep
A branding package to help promote the book
Additional derivative content to assist with social promotion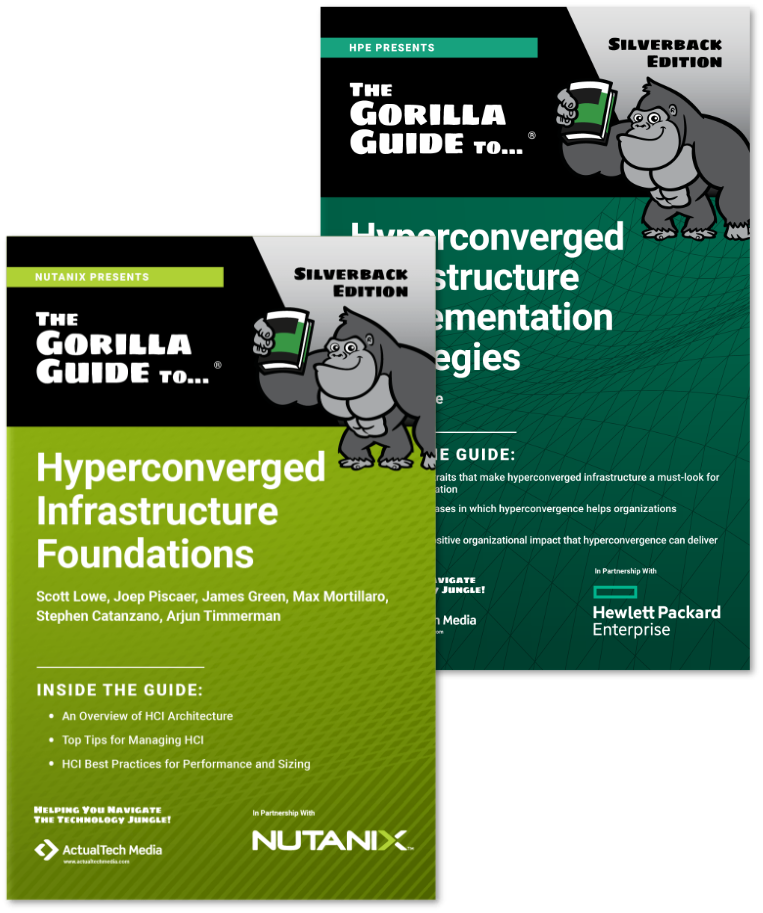 Gorilla Guides – The Perfect Evergreen Content Asset
The Gorilla Guide series of 6-chapter eBooks dedicated to helping readers navigate the increasingly dense technology jungle. In each book, readers are guided along a journey of discovery as they encounter new technologies and learn how these technologies fit into the increasingly complex technology landscape.
6-chapter print and eBook
Kindle and ePub versions included at no charge
1,000 printed copies of this 5.5″ x 8.5″ book delivered right to you for gated program, sales tools, tradeshows, and other in-person events
Blog post about the book launch with social promotion
Permanent, unlimited and unrestricted rights to the eBook. No annual renewal fees!
A-Z production: full writing, editing, and layout/design services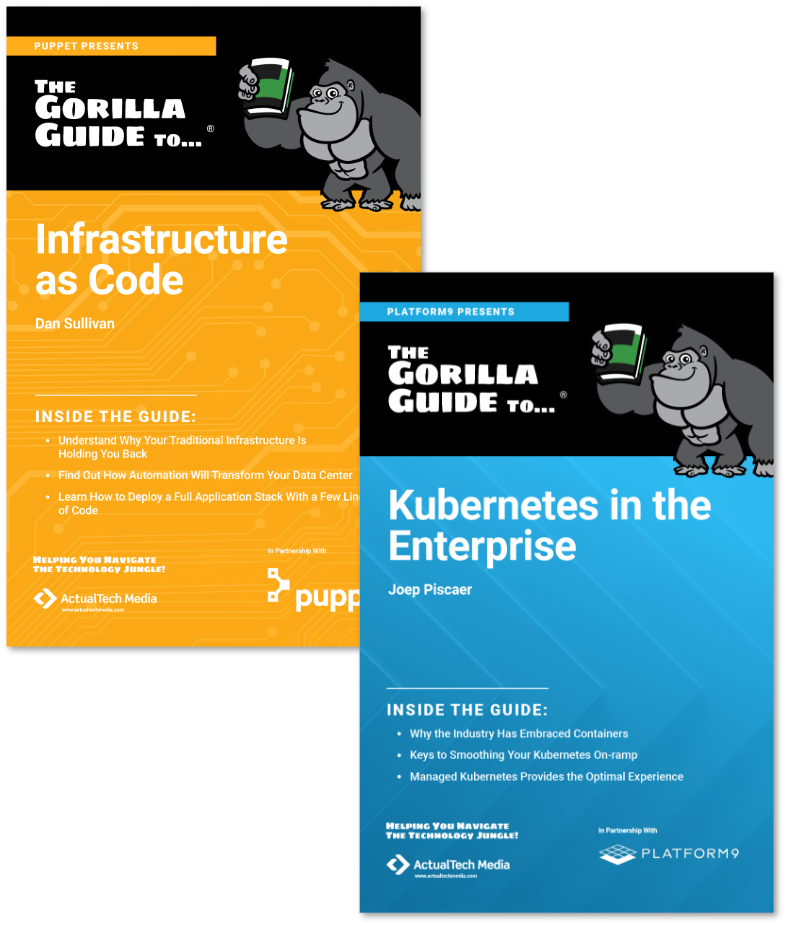 "The team's commitment to providing the assets by their targeted due date was extremely impressive given the amount of content involved. I will highly recommend using Actual Tech Media in the future should other teams need assistance in developing content!"

- Kristen Pina, Solarwinds

Kristen Pina, Solarwinds
Gorilla Guide Express Edition
When the story is more succinct, ActualTech Media's 3-chapter Gorilla Guide Express is the answer. Gorilla Guide Express books are delivered as a gorgeous eBook PDF that helps you get the word out on a targeted topic or technology area.
Gorilla Guide Express eBooks are the perfect snackable asset for content syndication, gated programs, events, sales tools and more.
An eBook only with grant an unrestricted license to use the book in perpetuity
A mini print book (500 copies) + eBook bundle included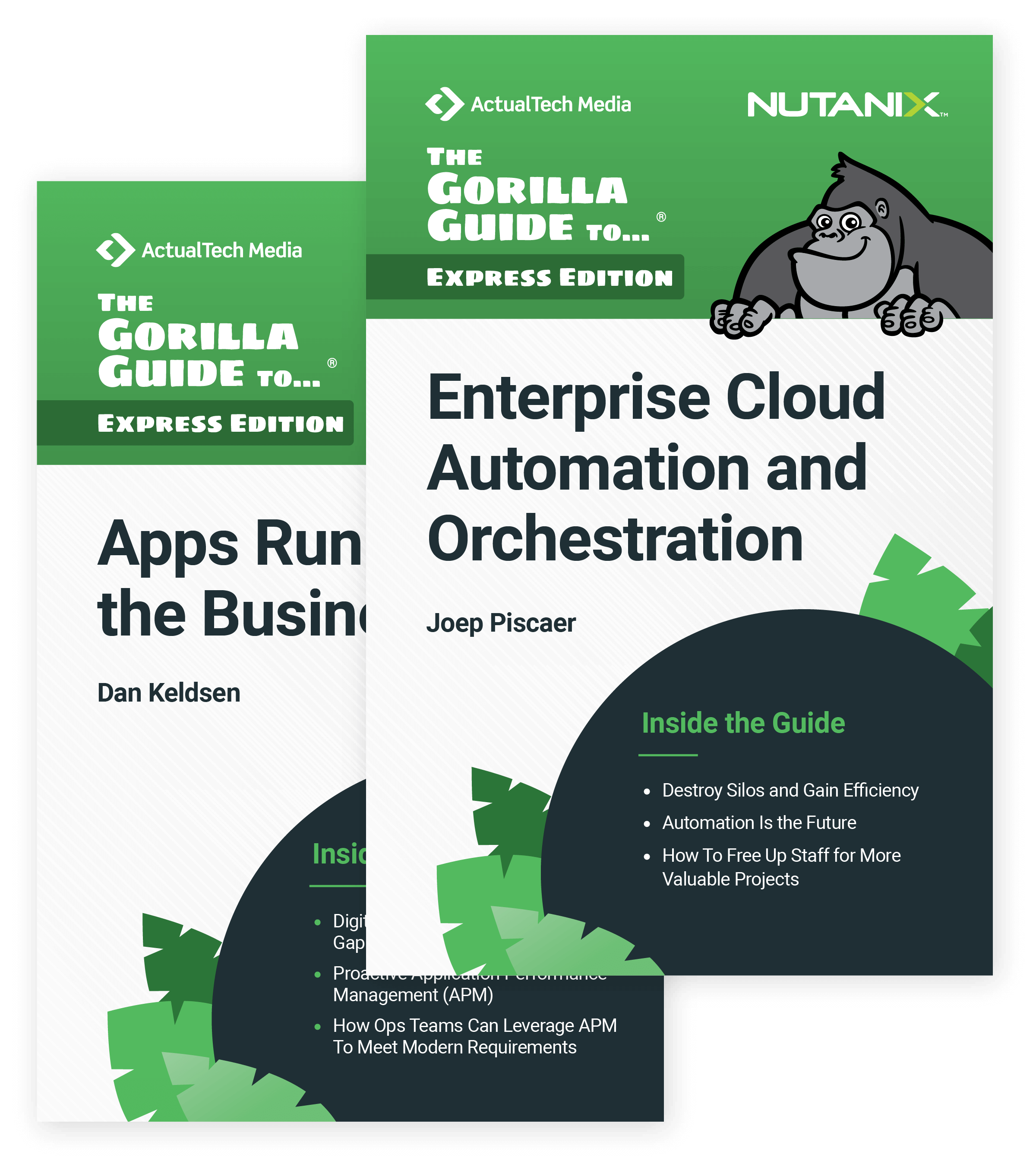 Gorilla Guide Tech Briefs
Target a technical or executive audience with a 3 to 5-page, short-form content asset that allows you to provide an introduction and overview of a technical concept or topic.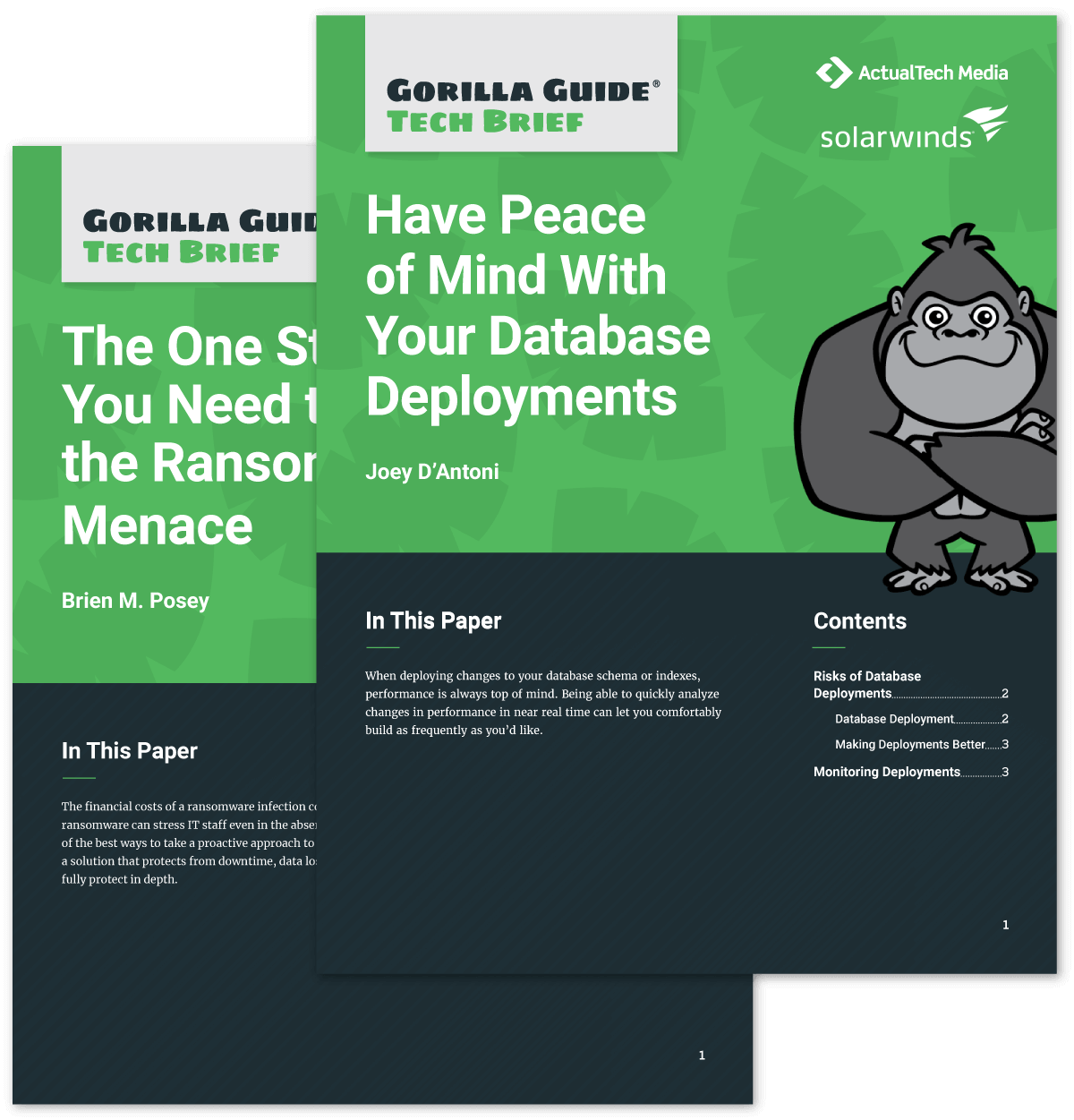 Gorilla Guide Trail Map Infographics
Fun, friendly one-page graphical learning maps that lay out a step-by-step journey to understanding a technology topic and a built-in teaser for a meatier asset.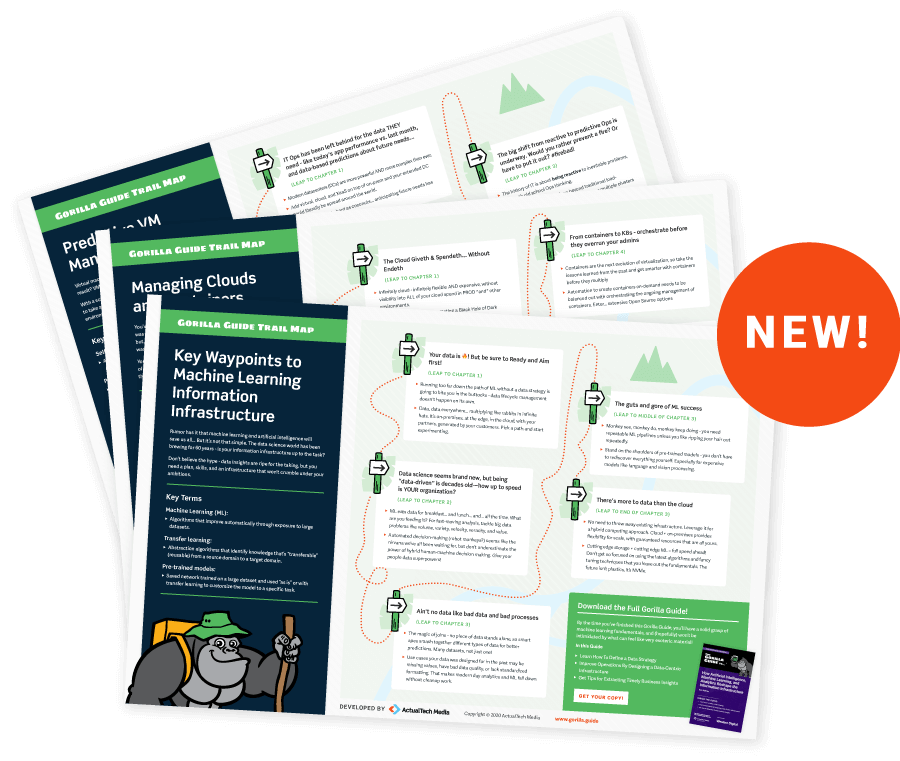 Gorilla Guide Foundations eBooks- The Whitepaper Alternative!
The whitepaper alternative! One-chapter starter eBooks perfect for highlighting use cases or bite-sized topic areas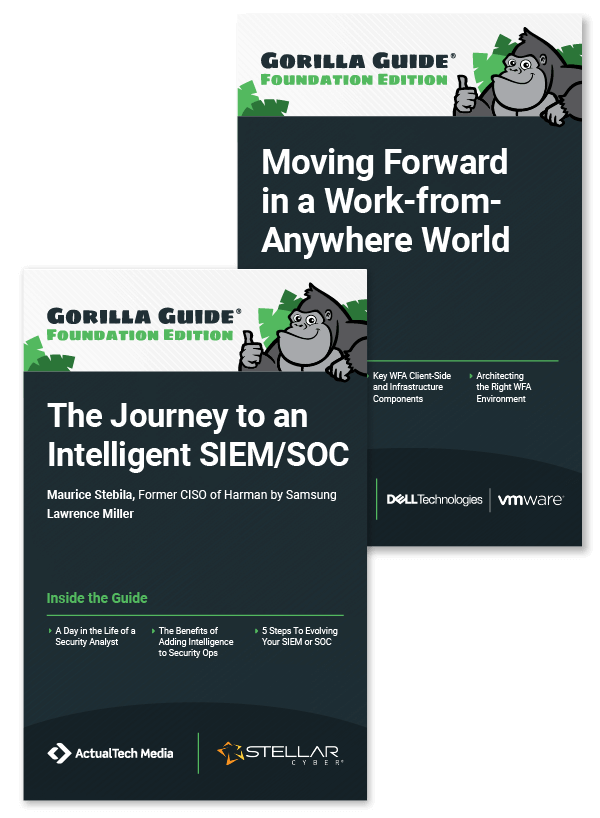 Enterprise Topics We Cover
Cloud
Public
Private
Hybrid
Enterprise/Multi-Cloud
Data Protection
Backup/Recovery
Disaster Recovery
Disaster Recovery as a Service
Data Management
Systems
Virtualization
Containers
Kubernetes
Data Management
Big Data
A.I.
Machine Learning
Integrated Systems
Hyperconverged
Converged
Composable
Storage
Traditional
Flash/NVMe
Object
Secondary Storage
Security
Identity and Access Management
Intrusion Detection and Prevention
Network & Infrastructure Security
Endpoint Security
Cloud Security
Messaging Security
Security Awareness
Networking & So Much More!
How to Use Your Gorilla Guide Book Throughout the Buyer's Journey