How To Prepare for and Recover from Cyber Threats and Attacks The Gorilla Guide® To… Ransomware Recovery
Ransomware attacks are proliferating in frequency and complexity, and can cause significant and lasting damage to businesses and organizations. When cyber disaster strikes, preparation is the key to recovering quickly and fully.
After reading this tech brief from Recovery Point, you'll know how to take the first steps toward creating a comprehensive ransomware recovery plan and ensuring business resilience in the face of cyber threats and attacks.
Download it now!
Highlights include:
Creating a response team
The components of a Business Impact Analysis (BIA)
Key areas to focus on when implementing solutions for risk mitigation, backup, response, and recovery
How ransomware recovery differs from traditional disaster recovery
Elements of a ransomware recovery checklist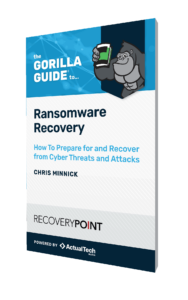 Developed by: ActualTech Media