New Releases
New Release: The Gorilla Guide to Comprehensive Office 365 Backup!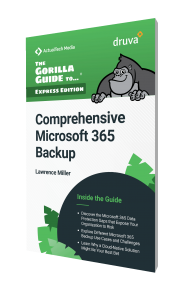 It's a big day in the IT Jungle! ActualTech Media is proud to announce The Gorilla Guide to …® Comprehensive Office 365 Backup! We developed this book in partnership with Druva to address a critical IT consideration for many organizations today: data protection in Office 365.
Office 365 is a critical business tool, especially now with remote work being a priority. In Office 365, businesses are responsible for their own data backup, security, retention, recovery, regulation, and legal holds. Data loss is a real concern, and Office 365 doesn't protect from accidental deletions, user errors, ransomware, or insider attacks. For all these reasons, Microsoft recommends that you back up your Office 365 data with a third party tool. Figure 1 illustrates the concept of "shared responsibility."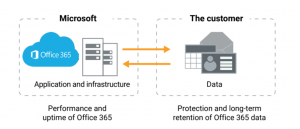 If you need help understanding how to better protect your Office 365 data, look no further! This new Gorilla Guide uses a no-nonsense approach to help you better understand why Druva offers unmatched Office 365 protection. Learn how to keep your cloud data safe and secure with this cost-effective, cloud-native SaaS backup solution.
Inside the Guide
Gorilla Guides make learning and discovery approachable and easy, and they take the guesswork out of navigating complicated IT technologies. Written by an industry expert, this resource is packed full of trusted information showing you how to save money, increase productivity, and secure your data.
Key insights in this guide:
Modern business challenges with the Shared Responsibility Model with Microsoft 365
Backup considerations for data compliance, legal hold, security and privacy, retention, and recovery
Use cases showcasing customers who have used Microsoft 365 Backup with success and want to share their experience
Benefits of a cloud-native backup solution and next steps
Table of Contents
Chapter 1: Modern Business Challenges in the Cloud Era (Average Read Time: 10 minutes)
The Shared Responsibility Model
Microsoft 365 Data Protection Gaps
Microsoft 365 Data is Everywhere
Chapter 2: Microsoft 365 Backup Requirements (Average Read Time: 12 minutes)
Data Backup and Retention
Data Recovery
Data Security and Privacy
Ransomware Recovery
Legal Hold and eDiscovery
Compliance
Chapter 3: Microsoft 365 Backup Use Cases (Average Read Time: 10 minutes)
Easy, Self-Service Email and File Recovery
Unified Backup Across Multiple Environments
Data Privacy at Cloud Scale
Data Retention and Legal Hold
Regulatory Compliance
Chapter 4: Benefits of a Cloud-Native Microsoft 365 Backup Solution (Average Read Time: 8 minutes )
Streamlined End-User and IT Admin Productivity
Enterprise-Grade SaaS Platform
Lower TCO
Going Beyond Backup and Recovery
Call to Action: visit druva.com/office365
About the Author
Lawrence Miller is an IT security consultant and has worked in information technology in various industries for more than 25 years. He served as a Chief Petty Officer in the U.S. Navy and has written more than 180 books and guides on numerous technology and security topics.
About Druva
Druva delivers data protection and management for the cloud era. Druva Cloud Platform is built on AWS and offered as-a-service; customers drive down costs by up to 50% by freeing themselves from the burden of unnecessary hardware capacity planning, and software management. Druva is trusted world-wide by over 4,000 companies at the forefront of embracing cloud. Visit Druva at www.druva.com or follow us @druvainc.