Express Edition The Gorilla Guide To...® Comprehensive Microsoft 365
With more than 200 million monthly active users, Microsoft 365 has quickly become the most widely used SaaS application in enterprises today. However, many organizations are oblivious to the need for more robust data protection capabilities and features beyond the native backup and recovery tools included in Microsoft 365.
This Guide spells out in detail why you're not safe if you're relying on built-in protection. But it doesn't just dissect the problem—it points to solutions.
Highlights include:
Discover the Microsoft 365 data protection gaps that expose your organization to risk
Explore different Microsoft 365 backup use cases and challenges
Learn why a cloud-native solution might be your best bet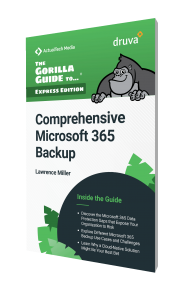 Developed by: ActualTech Media