New Releases
New Release: The Gorilla Guide to…® AMD and Nutanix Solutions to Best Run Your Applications in a Hybrid Cloud Environment, Express Edition!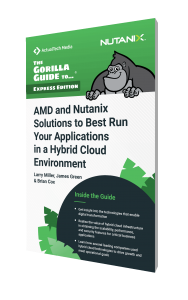 Keeping your computer systems and services in good running order is more and more important as the world comes increasingly to depend on them. The popularity of mobile devices—which give rise to impatient users—and the isolation imposed on most people by COVID-19 have raised the stakes even more.
But outages remain common. The Dec. 25, 2012 Amazon failure remains the most visible, but most sites still go down from time to time. Security breaches, which are becoming nastier and more common, provide another risk to your operations. Businesses are suffering from a shortage of sophisticated network operators and architects who grasp all the features of modern environments.
In AMD and Nutanix Solutions to Best Run Your Applications in a Hybrid Cloud Environment, Express Edition, authors Miller, Green, and Cox give an overview of two complementary technologies addressing current needs. For instance, AMD provides chip-level protections against security attacks, including local encryption.
Nutanix uses the same architectural approach of major sites such as Google, which allows an architecture to scale smoothly and provide quick response times (Figure 1). Key requirements such as high availability and centralized, single-screen administration are built in. Storage is simplified and integrated with the virtual machines (VMs). Security can be provided at a fine-grained, VM level.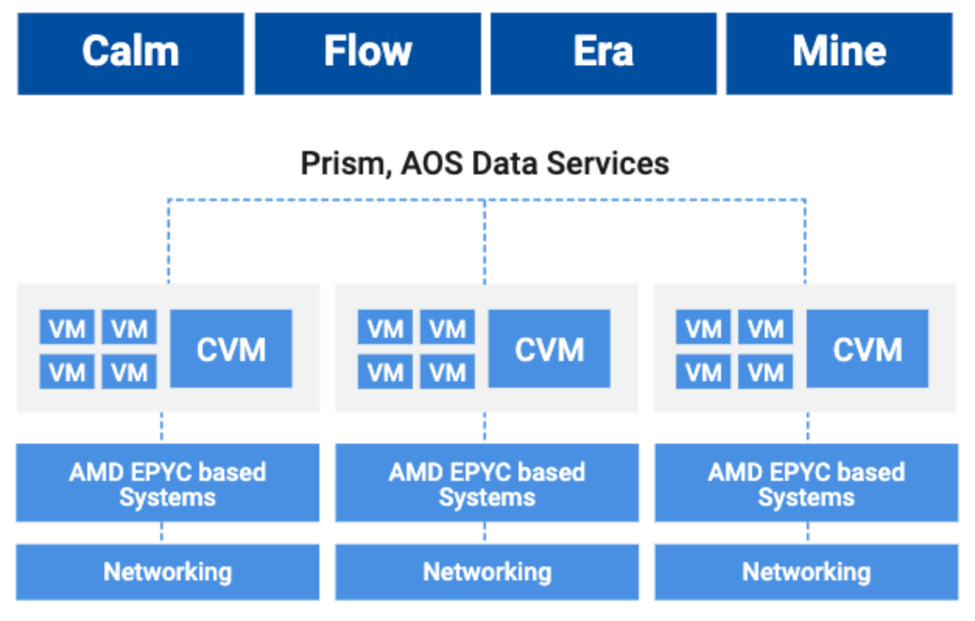 This report can be useful to anyone investigation commercial offerings for data centers cloud architects, SREs, and more.
Inside the Guide
Gorilla Guides make learning and discovery approachable and easy, and they take the guesswork out of navigating complicated IT technologies. Written by industry experts, and brought to you by Nutanix, this resource is packed full of trusted information about hardware and software solutions for scalability and reliability!
Download the book and learn all about:
Features That Make AMD EPYC Processors Good for Cloud Scaling
Services Provided by Each Nutanix Component
Nutanix Case Studies
Table of Contents
Introduction
Chapter 1: Exploring Use Cases Where Infrastructure Runs Your Applications
Modernizing Your Datacenter
Running Any App at Scale
Managing All Your Clouds
Chapter 2: Better Together: The Nutanix+AMD Infrastructure Solution
Nutanix Hybrid Cloud Infrastructure
Chapter 3: Putting It All Together: Case Studies
Multinational Pharmaceutical Company
Global Healthcare Company
Fast-Growth Technology Startup Company
About the Authors
Larry Miller has worked in information technology in various industries for more than 25 years and served as a Chief Petty Officer in the U.S. Navy. He earned his MBA in Supply Chain Management at Indiana University. He has written more than 200 books on numerous technology and security topics.
James Green is Partner & VP of Content at ActualTech Media where he is responsible for developing unique content offerings that help enterprise IT vendors accomplish their most critical content marketing objectives.
Brian Cox has more than 30 years of experience in the enterprise IT industry. At Nutanix, he is responsible for promoting the solutions, platforms and technologies from the hardware vendors on which the Nutanix software runs, such as AMD, Dell EMC, Fujitsu, HPE, Inspur, Intel and Lenovo.
About Nutanix
Nutanix makes infrastructure invisible, elevating IT to focus on the applications and services that power their business. The Nutanix Enterprise Cloud OS delivers the agility, pay-as-you-grow economics and operational simplicity of the public cloud, without sacrificing the predictability, security and control of on-premises infrastructure. Nutanix solutions leverage web-scale engineering and consumer-grade design to natively converge compute, virtualization and storage into a resilient, software-defined solution that delivers any application at any scale.
For more information, visit www.nutanix.com.
Download the book here!