Gorilla Guide To...® AMD and Nutanix Solutions to Best Run Your Applications in a Hybrid Cloud Environment, Express Edition
We live in an era of unprecedented opportunities for businesses that take advantage of modern technology. Digital transformation is driving innovation and change for entire industries and has enabled the global workforce to adapt to a challenging new world. Companies that have invested in modern technologies and embraced change are now well-positioned to compete in global markets in ways that were once unimaginable.
This Guide is for those who are responsible for the technologies that enable digital transformation in their companies. That group might include system administrators, database administrators, cloud architects, storage architects, security engineers, site reliability engineers (SREs), and IT decision-makers of all sorts. Throughout this book, you'll get solid, actionable information to help you maximize the value of your hybrid cloud infrastructure by delivering scalability, performance, and security features for your critical business applications.
Highlights include:
Get insight into the technologies that enable digital transformation
Realize the value of hybrid cloud infrastructure in obtaining the scalability, performance, and security features for critical business applications
Learn how several leading companies used hybrid cloud technologies to drive growth and meet operational goals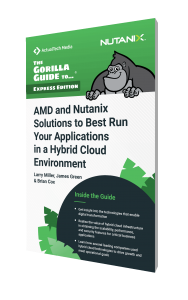 Developed by: ActualTech Media