The Gorilla Guide To…® (Express Edition) Better Business Continuity with Out-of-Band Management
If you need to get better control over your data center and make your operations more resilient, this book is for you!
We'll introduce you to the key concepts of out-of-band management (OOBM), and show you how to get the most out of it. OOBM can be complicated; we'll simplify things for you, making it easier to grasp. We'll also discuss one vendor who has offerings in this space that are highly regarded: ZPE Systems.
Highlights Include:
Keep network operations running—even during an outage
Best practices for OOBM design
Leverage the power of the cloud for OOBM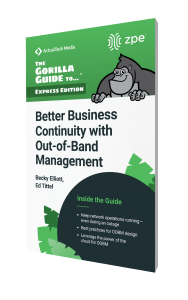 Developed by: ActualTech Media