The Gorilla Guide to... Moving Beyond Disaster Recovery to Achieve IT Resilience
Does your business require you to modernize IT while you're struggling to manage the day to day. Sound familiar?
Use this e-book to help move beyond the day to day challenges of protecting your business and start shifting to an IT resilience strategy. IT resilience is an emerging term that describes a stated goal for businesses to accelerate transformation and easily adapt to change while protecting the business from disruption.
With IT resilience you can focus your efforts where they matter: on successfully completing those projects which mean the most to the progress of the business – the ones that help you increase market share, decrease costs and innovate faster than your competitors.
Inside this Guide
How to prepare for both unplanned and planned disruptions to ensure continuous availability
Actionable steps to remove the complexity of moving and migrating workloads across disparate infrastructures
Guidance on hybrid and multi-cloud IT: gain the flexibility to move applications in and out of the cloud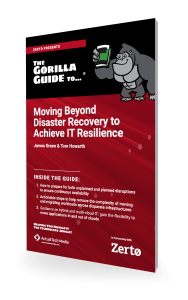 Developed by: ActualTech Media