The Gorilla Guide To…® Network Visibility with VMware vRealize Network Insight
With the rise of public cloud, IT environments are becoming harder to manage. In addition to the on-premises data center, managing cloud estates and services requires additional knowledge, and having different configurations and best practices.
The networks connecting private, hybrid, and public clouds are a significant part of managing that complexity and ensuring the correct security posture.
VMware vRealize Network Insight gives admins the right insights into their networking estate, whether that's on-premises or across the hybrid cloud, and helps admins secure, migrate, and troubleshoot micro-segmentation and networking configuration, as well as keep track of changes across disparate networking technologies, ranging from underlay switching and routing, firewalls, physical load balancers, and virtualized networks across vSphere, AWS, VMware Cloud on AWS, and Microsoft Azure.
Highlights include:
How cloud computing makes network monitoring harder
Overcoming application visibility challenges
Tips for managing security at scale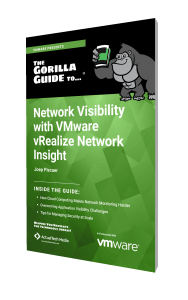 Developed by: ActualTech Media