The Gorilla Guide to... Maximizing VMware vRealize Operations
Would you like to take your VMware vSphere infrastructure to the next level? Read the new Gorilla Guide to… VMware vRealize Operations to help you optimize, plan, and scale your software-defined datacenter!
In this book you'll learn about the many benefits of vROps, how to deploy it, configure it, and use it to enable unified management, intelligent remediation, and self-driving operations.
Inside this Guide
How to get started with vRealize Operations
How to deploy and configure vRealize Operations
What's new in vRealize Operations 7.5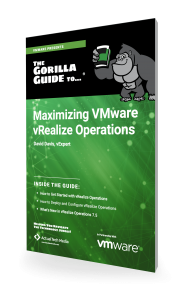 Developed by: ActualTech Media