Tech Marketing
Tips for Effective Data Protection Solution Marketing
Actionable ways to connect with buyers and grow your cybersecurity brand.
Effective data protection solution marketing requires more than just technical expertise and product features. In order to attract and convert new customers, your strategy should aim to accomplish several goals:
Communicate with buyers in ways that resonate with them. Use language that's relatable to buyers and addresses their specific needs and concerns.
Meet potential customers on the channels where they research brands. This could include social media platforms, search engines, or industry-specific websites. By being present and active on these channels, you can increase your brand visibility and credibility with target audiences.
Create high-value, optimized content. This means producing content that's informative, engaging, and relevant to the target audience, while also being optimized for search engines and other digital platforms.
Take targeted and personalized approaches to communication. Learn the specific needs and preferences of individual customers or customer segments, and tailor your messaging and content accordingly. By doing so, you can build stronger relationships with customers and increase the likelihood of repeat and referral business.
Emphasize expertise and thought leadership. Share and comment on industry news and trends, and feature your internal subject matter experts.
Let's dive deeper into these strategy elements and how you can put them into practice with 7 smart approaches.
Want more insight on this topic?
Read more in our Definitive Guide to Data Protection Solution Marketing.
Communicate in Layman's Terms
The world of data protection is riddled with jargon. An easy example of this is the data consent disclaimers users see on every website they visit—most blindly click "accept" without a second thought to what it actually means.
The same often applies for companies, especially for those without a formal IT team handling their cybersecurity efforts. They don't understand the language used to discuss cybersecurity and data protection, and so they implement perfunctory and/or ineffective strategies.
Combat this challenge by communicating even the most technical aspects of what you do using language your target buyers can understand.
Build an Online Presence
Brand visibility plays a key role in determining which vendors a buyer will choose — perhaps even more so than quality of solutions.
Today's B2B buyers complete more than half of their vendor research before ever reaching out to sales teams. They also interact with brands on 10+ channels throughout their buyer journey.
A brand's presence on search engines, social media, and other key digital channels has a direct impact on their marketing and sales opportunities.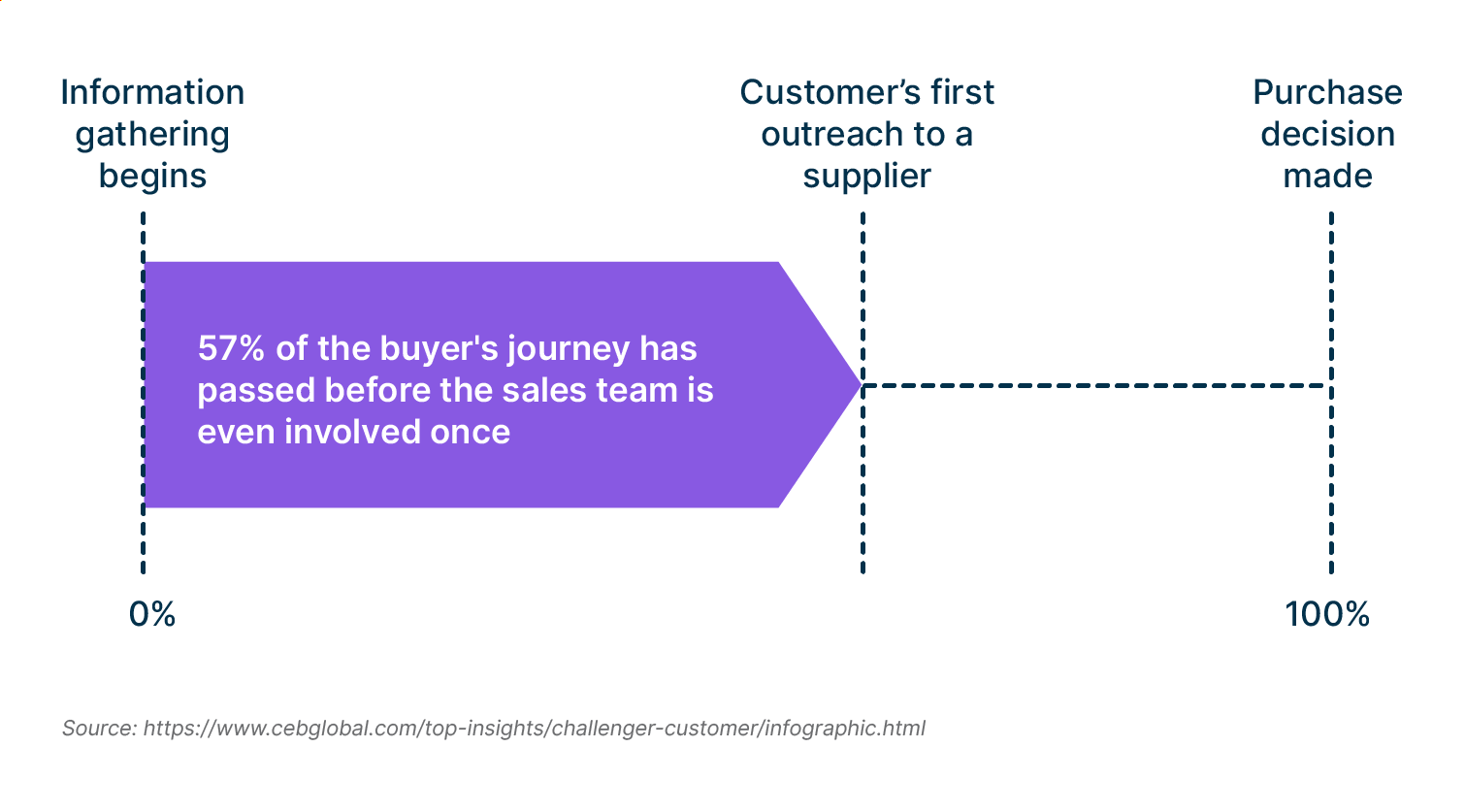 Build your data protection solution marketing strategy on a solid foundation of multichannel activity and outreach. Include inbound marketing tactics like SEO and content marketing, as well as outbound strategies like email outreach and targeted search ads.
Humanize the Need for Data Protection Solutions
Ultimately, protecting data is about protecting people.
When a company experiences a data breach, it impacts their stakeholders because it's their information that's often at risk—from email addresses to home addresses to financial data or Social Security numbers, compromised data presents all types and levels of safety risk to the human beings behind it.
No company wants to put their own stakeholders at risk in this way. That's why emphasizing the human element of data protection is an effective way to get buyers paying attention.
You can do this compellingly by using real-world examples of data breaches, both ones that have been in the news (here's a good list to start with) and those you know about firsthand from your clients and peers.
Create High-Value Content
Content marketing is a cornerstone of modern digital marketing strategies, and it's one of the main methods for executing the strategies we've already outlined above. Even if your target audience isn't seeking out data protection solutions specifically, you can attract buyers to your brand—and help them see the need for your solutions—with great content.
Start by covering related topics your customers care about. Then, use lead conversion tactics like subscription forms, online events, and lead magnets to get them officially entered into your pipeline.
Build a Reputation for Thought Leadership
Thought leadership is essential to building brand trust—82% of business decision makers and 81% of C-Suite executives say it increases their trust in organizations they engage with. It should be a primary focus, then, in your content and your data protection solution marketing strategy at large.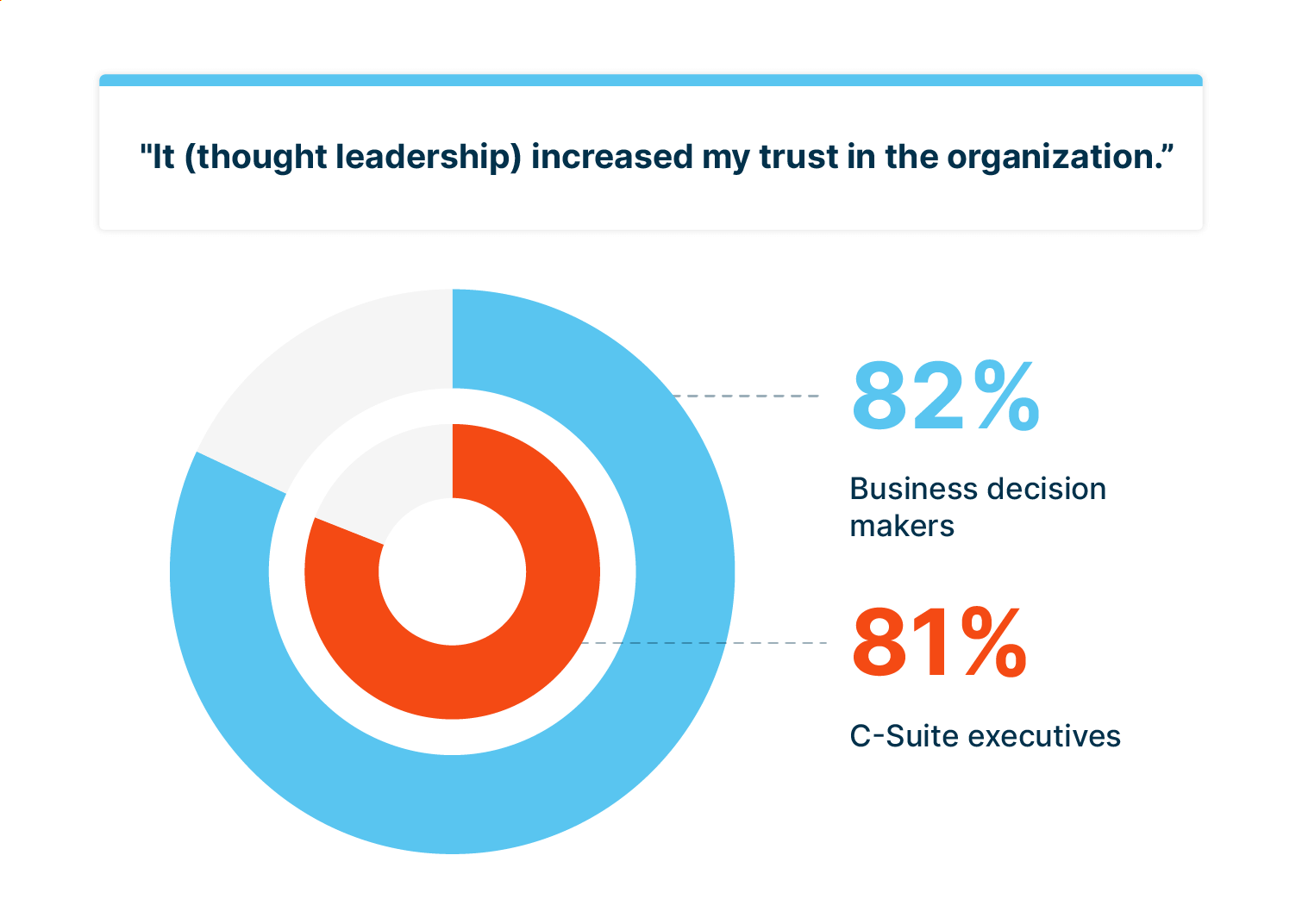 When buyers outsource data protection, they're looking for companies and teams who have the expertise they don't have in-house. Given that they're significantly narrowing down their options before they reach out to brands directly, you need your thought leadership to be obvious on the digital channels buyers use to do their vendor research.
Establish thought leadership by going beyond status quo coverage of relevant topics. Provide original commentary (even when it goes against the grain) on trending and timely topics. Feature internal subject matter experts with content like webinars, blogs, and interviews.
Finally, optimize your thought leadership content for SEO and by targeting assets to the right buyer groups and customer segments.
Share Client Success Stories
Social proof—proof that your brand can be trusted and has delivered value to others—is a necessity for most B2B buyers. In fact, 92% say they're more likely to buy after reading a trusted review.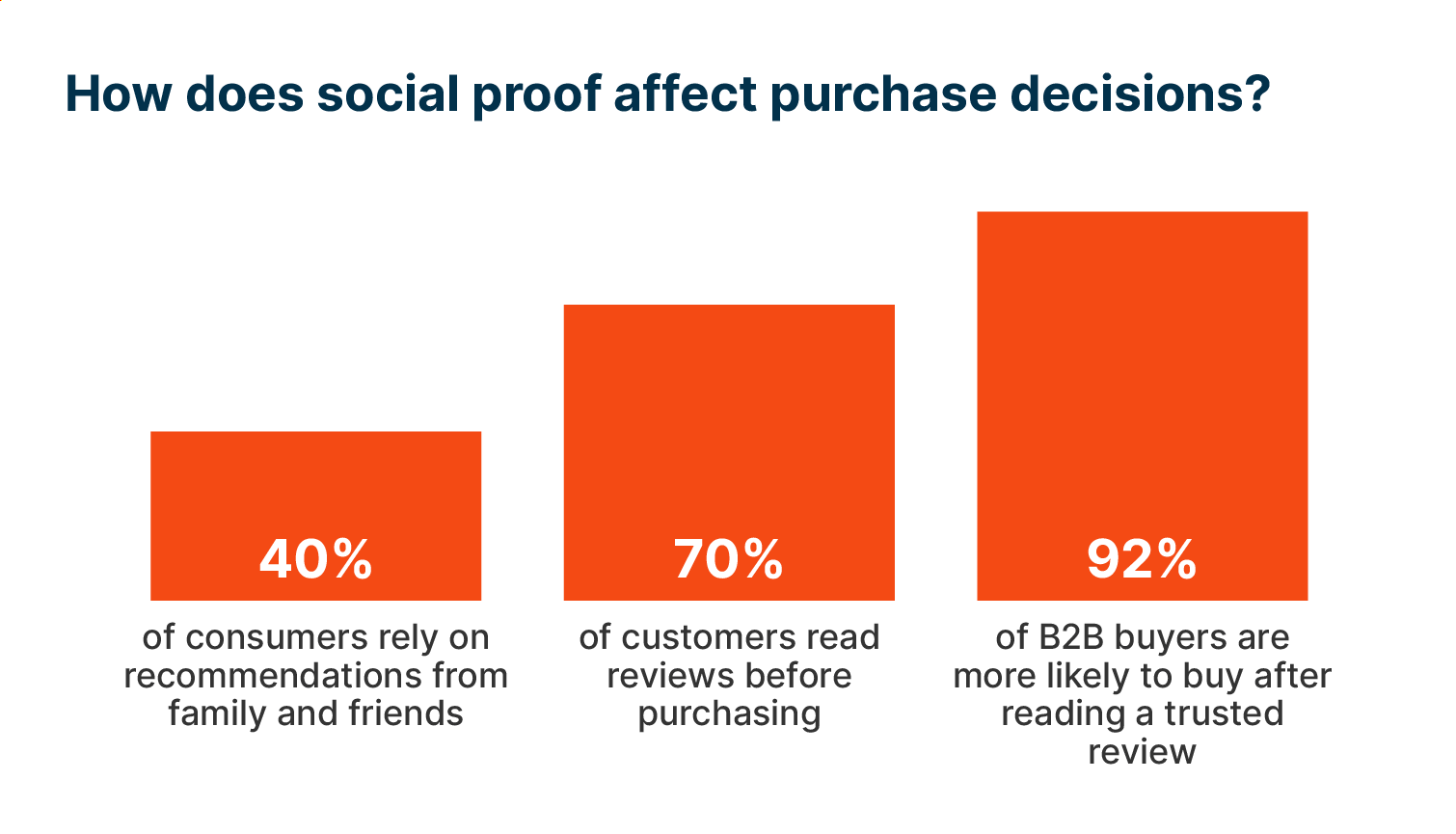 Reach out to your best clients to see if they'd be willing to let you share their story (most will) and collect quotes and feedback by conducting an interview.
Client success stories can come in the form of written blog posts or videos (or a combination of both) and then shared across all the channels you use for data protection solution marketing—email, social media, your website, sales enablement materials, and more.
Personalize Your Marketing Approach
Data protection solution needs vary by industry, organization type, markets served, location, relevant data protection laws, and many other factors. Further, every organization has their own unique needs gap they need to address.
Plus, B2B decision makers don't just want solutions marketing that's personalized to their needs—they expect it. McKinsey reports that 76% of consumers become frustrated when their brand experiences aren't personalized.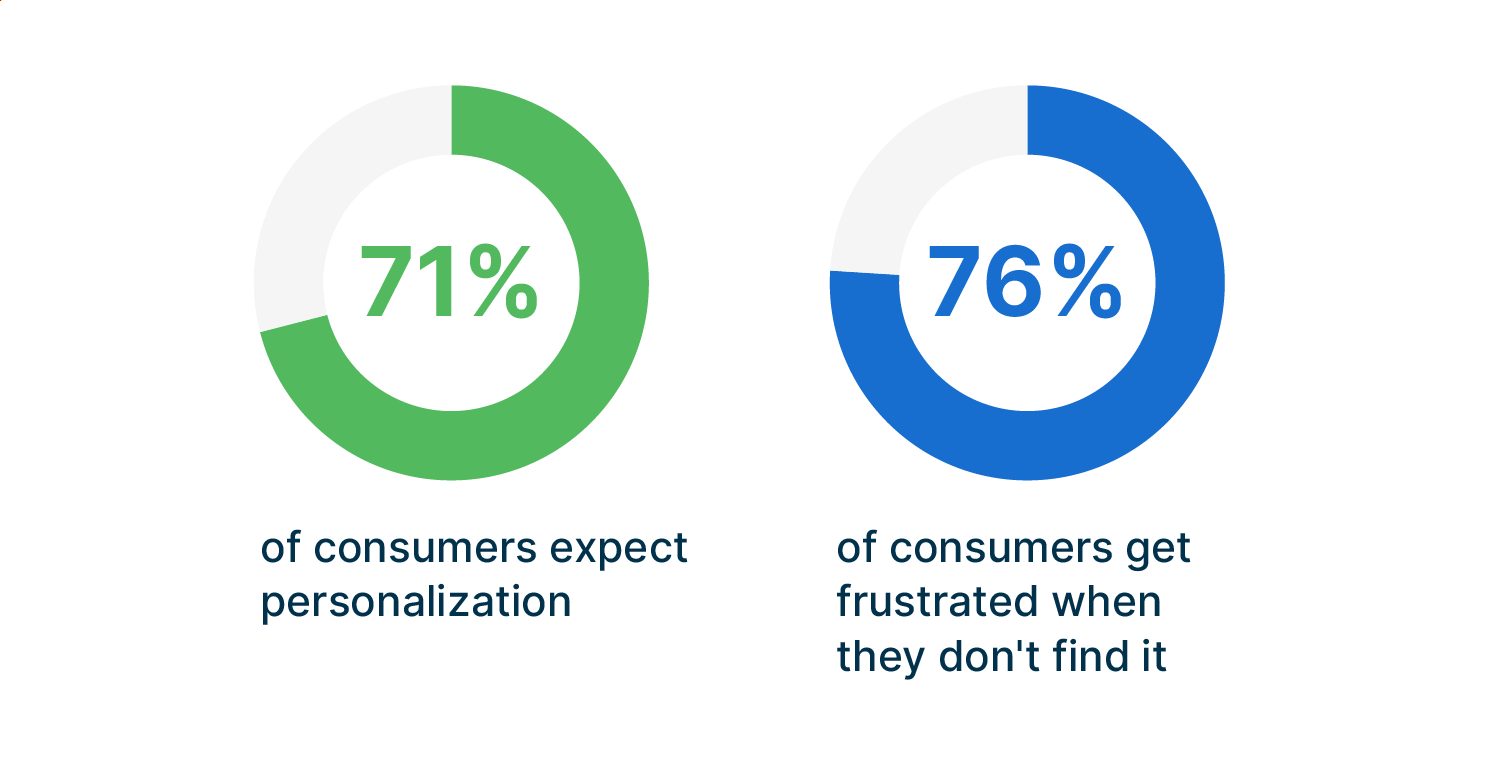 You can personalize your data protection solution marketing strategy by taking a hyper-targeted approach. Know your ideal customer profiles and buyer personas, design marketing content and communications for each group, and use data-driven automation to deliver it seamlessly across the buyer's journey.
Enhance Your Data Protection Solution Marketing with ActualTech Media
If you're looking for innovative ways to share your solutions, reach larger audiences, and position yourself strategically alongside competitors in your space, ActualTech Media can help. Our multi-vendor webinars generate hundreds (up to 1,200-plus) qualified leads for participating vendors and come with analytics-driven post-event reporting.
We can also support your data protection solution marketing strategy with high-value, custom content marketing and content syndication services that help you reach your lead-gen goals and boost brand visibility in your space.
Ready to explore what a partnership with ActualTech Media can do for your business? Contact our team today to get started.