The Gorilla Guide to... Supermicro: Featuring Supermicro BigTwinTM with Intel® OptaneTM
A funny thing happened on the way to the server- free, public cloud-only, IT-as-a-utility marketing nirvana: very few organizations actually made the trip.
Hybrid cloud deployments are dominating, with organizations of all sizes choosing a combination of public cloud, service provider cloud, and on-premises IT.
Through it all, Supermicro has emerged as the world's fastest growing IT vendor, and has done so by offering the most diverse range of hardware platforms in the industry.
Inside this Guide
How Supermicro became an industry leader
The huge variety of Supermicro offerings
An overview of Supermicro's strong partner ecosystem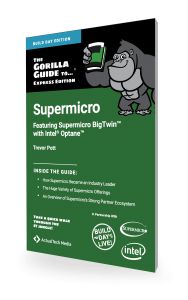 Developed by: ActualTech Media