Using DataOps for Competitive Business Advantage
While software development methodologies have spent recent years streamlining and improving the process, data development processes have not kept up. Data engineering is still taking a Wild West approach, with manual integration processes, concerns over data accuracy, and siloed monitoring tools.
A new data engineering methodology called DataOps is designed to address these challenges and improve the data being delivered. The SolarWinds product suite is designed to help with your data modernization efforts.
Highlights include:
Improving data quality and performance for delivery
Data flow automation and analytics
Monitoring performance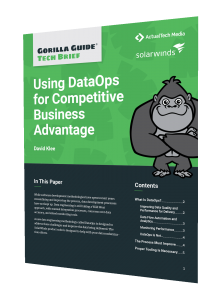 Developed by: ActualTech Media