Tech Marketing
Setting Up a Webinar Funnel That Keeps Driving Revenue
Webinars have emerged as one of the top tactics for lead generation in the B2B space—67% of buyers have consumed them in the past 12 months, and 40% say they use them specifically to inform purchase decisions. They align with general consumer preferences for video content and offer an opportunity for B2B sellers to reach a large audience with a single event.
But webinars also take time to produce and execute — and the full webinar lead generation opportunity encompasses not just the event itself but the time leading up to and following it.
To earn full ROI from your webinar efforts, you'll want to set up an end-to-end webinar funnel that pulls leads in, motivates them to take action, and ultimately converts them to sales.
In this guide, we'll define webinar funnels, walk through how they're executed in practice, and cover actionable steps you can take to launch one for your business.
For full insight on this topic, check out our Complete Guide to Setting Up a Webinar Funnel that Keeps Driving Revenue.
What are webinar funnels?
Webinar funnels involve a multitude of steps before, during, and after your event, and some that depend on the specific actions of your registrants and attendees. Your webinar funnel will include steps and processes like promotion, landing pages, interactive tools, email sequences, lead management tools, and sales team interactions.
Here's a sample webinar funnel to give you an visual idea of what it looks like: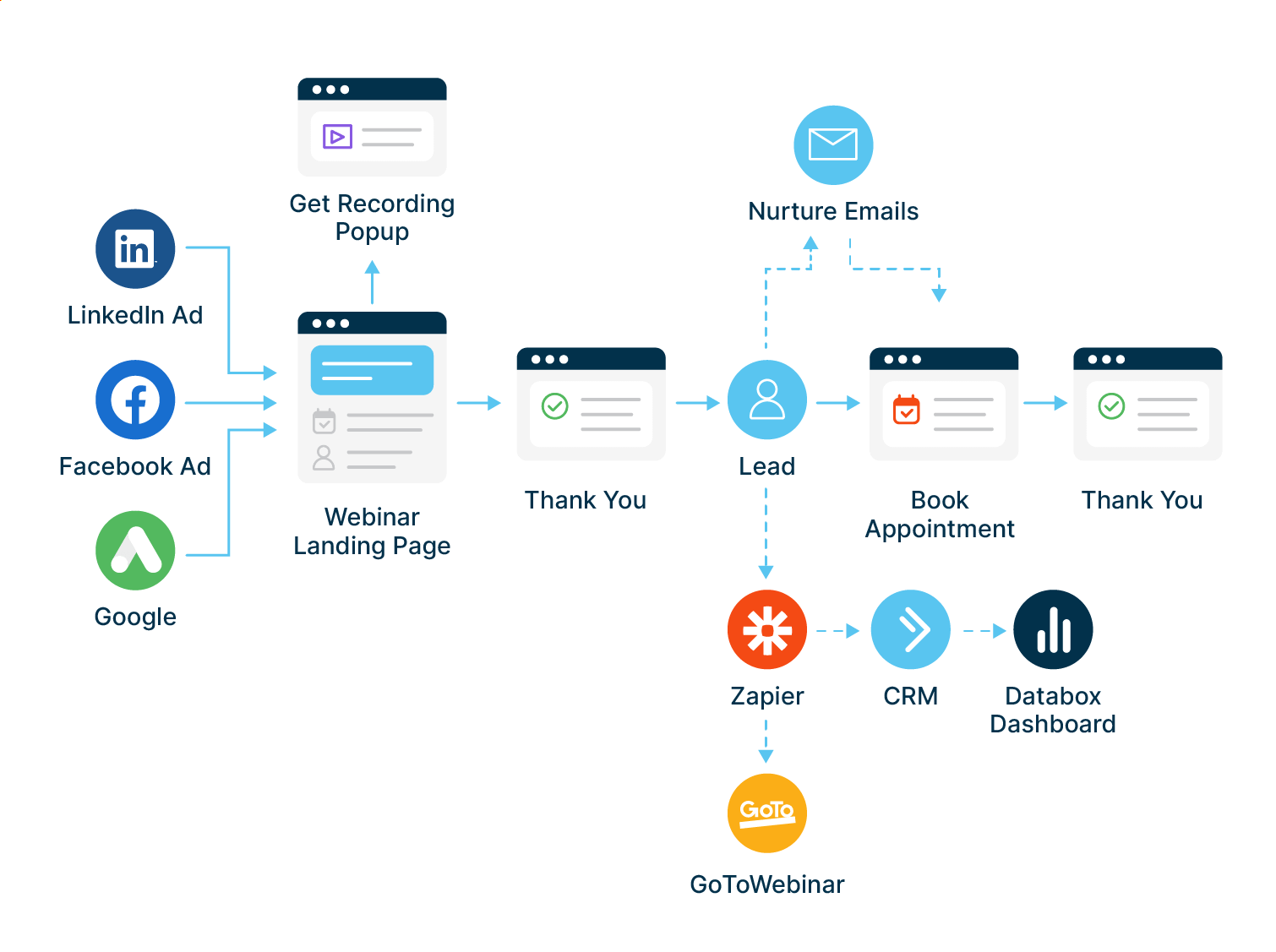 How do you set up a high-performing webinar funnel?
Plan your webinars
A webinar funnel is driven by interest, which means it starts with planning webinars on topics your audience cares about. There are plenty of helpful places to turn and resources to use to research your audience interests and even ask them what they want to learn about, including social media, your blog, customer support teams, and marketing/sales data.
Create your webinar landing page
Your webinar landing page is the hub of your webinar — a one-stop-shop where interested potential attendees can learn everything they need to know about the event, including title, topic, speakers, day and time, and how to register.
Promote your webinar
Now you've got the foundation in place, and it's time to fill your webinar funnel with interested potential attendees and high-intent leads. The key here is to know who you're targeting (don't try to make every webinar for everyone) and meet them where they are with exciting promotion.
High-ROI strategies to boost visibility of your event include branded content assets, partner promotion, blogs, direct outreach, SEO, and display ads.
Execute the event
The way you execute your event plays a central role in how well you keep your webinar funnel moving—from both a technical and engagement perspective. Two keys to making it effective are your webinar platform and data collection capabilities.
Send follow-up email sequences
Best practice is to follow-up with your registrants within 24 hours of your event to say either "Thanks for attending," or "Sorry we missed you."
Automating these emails is your best bet — you can have them written before your event even happens, add your segmented lists after, and trigger your automated follow-up sequence so you don't have to do any extra manual work.
Leverage your recording
Your webinar recording plays an important role in keeping your funnel moving after your webinar ends. Maintain your webinar landing page after your webinar ends (as is visualized in the example webinar funnel image we looked at earlier) so your recording can power post-event webinar lead generation.
Be intentional about your CTAs
Your webinar funnel strategy should align with your larger sales process, which means your CTAs should be intentional. Take time to align your marketing and sales teams and identify at every stage of your funnel what you want your lead to do next.
Prepare your sales team
When you're launching a new webinar funnel strategy, it's important to get your sales team on board. Not only is it considerate, but it's critical to the customer experience. Be sure to keep your sales team in the loop about your funnel strategy and make sure your webinar schedule is added to  their calendars.
Adopt the right tools to help you execute
Have your CRM system, webinar platform, email marketing software, and any other tools you need to power your webinar funnel strategy in place at the start, and integrate them wherever possible for seamless data transfer and consistent, real-time views into your sales pipeline.
Automation: They Key to Webinar Funnel Success
Automation enables evergreen webinar funnels—those that continue to drive leads and sales over time without requiring manual intervention.
As you grow your webinar lead generation strategy and implement multiple funnels at once, you'll need these evergreen funnels to maintain sales team bandwidth, keep things consistent, and have the ability to quantify specific tactics (and the ROI they earn).
Generate More Webinar Leads with ActualTech Media
When it comes to building webinar funnels that win you new customers, ActualTech Media can do much of the work for you. We connect B2B tech marketers directly to capable, motivated audiences in hot-topic, multi-vendor industry events. We handle the setup and promotion, and you can expect anywhere from 200-1200+ high potential leads in return for participating.
Ready to learn more? Get in touch with our team today!