The Gorilla Guide To…® (Express Edition) Optimizing ITAM for Success
IT Asset Management, or ITAM, is about getting your IT house in order. You need to know exactly what's in your data center and cloud environments to make sure you're in license compliance, and that you're not wasting money. The only way to do that is with proper ITAM in place. This Guide shows you how to do it right.
It's process-oriented, so after a brief overview of concepts, you'll learn about the nuts and bolts of getting a handle on your assets. It's invaluable information, and can not only help you save money, but protect you from the dreaded vendor audit.
Highlights include:
Getting a proper inventory
Arming yourself for license battle
Stamping out shadow IT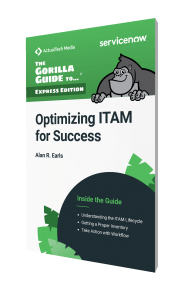 Developed by: ActualTech Media