Optimize Expanding Technologies and Enterprise Asset Holding The Gorilla Guide® To… IT Asset Management
Proper asset management follows an organization's assets across their entire lifecycles for the entire organization. This helps to optimize costs, improve efficiencies, and reduce possible risks and exposures that assets bring with them.
Enterprise asset management (EAM) goes beyond the confines of IT and its assets to incorporate large collections of assets such as sensors (IoT), fleets, pipelines, and industrial equipment in its purview.
Highlights include:
Understanding and getting started with asset management
Extracting value and efficiency from asset management
Putting EAM to work
Following the asset journey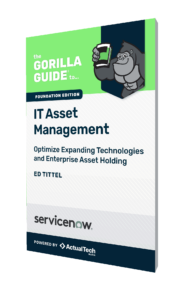 Developed by: ActualTech Media