The Gorilla Guide To…® (Express Edition) Elevating ITAM with Workflow
It's one thing to understand what IT Asset Management (ITAM) is, and another to figure out how to use it to maximum effect in your environment. ITAM should work for you, and not the other way around.
This Guide is all about integrating ITAM processes and technologies into your day-to-day operations. Whether you're already using some form of ITAM, or are exploring it because your spreadsheet is too difficult to keep updated by hand, this book has something for you.
Highlights include:
Why a managed ITAM service makes so much sense
How ITAM automation saves you time and money
The risks you face without proper ITAM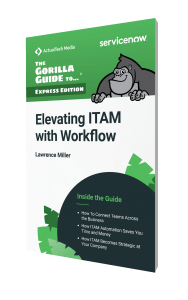 Developed by: ActualTech Media