The Gorilla Guide To...® (Silverback Edition) Achieving IT Asset Management Success
IT Asset Management (ITAM) is about managing the full lifecycle of hardware, software, and IT assets from procurement to disposal. Without proper ITAM practices in place, your organization is at risk in several ways, including overspending on IT and not being prepared for potential audits.
This Gorilla Guide shows you how to do ITAM right, and get the most out of it.
Highlights include:
The business case for ITAM
Automating ITAM operations with workflow
How ITAM becomes strategic at your company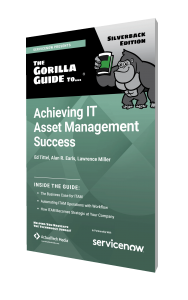 Developed by: ActualTech Media