The Gorilla Guide To…® Modern Object Storage for Cloud-Native Applications
In this Gorilla Guide, you'll learn how cloud-native applications are designed around microservices that can leverage the advantages of object storage.
The ideal object storage system is lightweight and easy to operate, even in the case of edge deployments. Modern applications are not limited to running in a single cloud, so their object storage systems should be multi-cloud-capable.
Highlights include:
Building on containers and microservices
Storage challenges for containerized apps
Why object storage for is the best choice for cloud-native development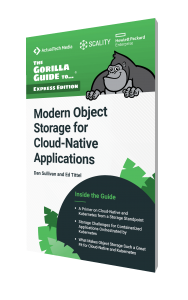 Developed by: ActualTech Media