The Gorilla Guide To…® Object Storage for Data at the Edge
Over the last decade edge computing has become a key part of the IT landscape. As organizations add more monitoring of all kinds and data-driven automated processes, the demands for processing and storage at the edge have grown steadily.
In this Gorilla Guide you'll learn about different ways organizations are using edge computing, how object-based storage can help you meet your edge computing needs, and the elements you need to look for in an edge storage solution.
Highlights include:
The three C's of edge computing
Moving data from the edge to the cloud
Object-based storage for edge computing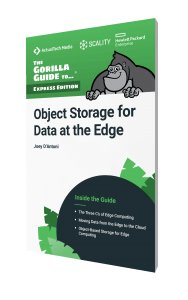 Developed by: ActualTech Media