The Gorilla Guide To…® (Express Edition) Enabling IT at the Edge
Hyperconverged infrastructure, or HCI, is empowering organizations to do more at the "edge" of the enterprise, far from the data center. Why? Because that's where data is generated and, often, where low-latency computing is needed to boost business performance.
This Gorilla Guide will help you learn more about edge computing, and how HCI technology from Scale Computing can help.
Highlights include:
The compelling case for HCI in edge computing
Five requirements for edge computing success
Where HCI and edge fit in a cloud computing world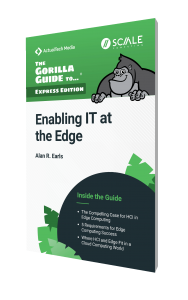 Developed by: ActualTech Media