The Gorilla Guide to... Rapid Restores with Flash and Cloud - 2nd Edition!
Welcome to this Gorilla Guide covering enterprise data protection, backup, and recovery.
The purpose of this guide is to provide insights and guidance to IT planners, storage architects, compliance officers, auditors, and backup administrators who are seeking to ensure and im- prove the data protection and recovery strategies currently being used to safeguard your organization's most irreplaceable asset: your data.
Inside this Guide
The changing face of data protection
The real value of cloud-enabled backup and restore
Why Flash-to-Flash-to-Cloud is a better way to protect data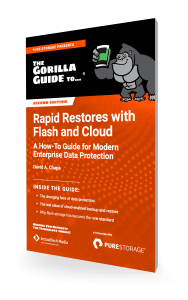 Developed by: ActualTech Media