The Gorilla Guide To…® Modern Data Protection
Job No. 1 for IT these days is protecting data. That's followed closely by restoring that data if something goes wrong. Getting back to business quickly after some sort of outage is no longer optional—it's a requirement to stay competitive.
This Guide shows you how to do just that. It also explores the key roles that storage solutions, software, and programmable APIs play in providing cloud-friendly, flexible, and adaptable solutions.
Highlights include:
How flash devices change the backup and recovery game
The critical importance of cloud-based platforms and technologies for modern IT, including data protection and recovery
Key industry trends driving modernization and adoption of flash-based storage technologies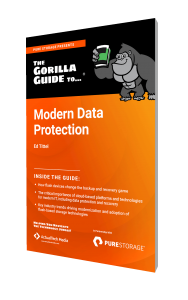 Developed by: ActualTech Media