The Gorilla Guide To…® (Express Edition) Unleashing the Power of Edge/IoT
Edge computing and the Internet of Things (IoT) aren't exotic terms anymore—they're quickly becoming mainstream technologies and products that point to the future of IT. They're also rapidly evolving and improving, and being used in more and more scenarios.
It's important to understand the lay of the land before jumping into these cutting-edge fields. And this book does just that: We'll take you through the basics of these new, rapidly expanding technologies, and show you how to get more out of them.
Highlights include:
Top edge and IoT use cases
Practical considerations for implementation and management
How Nutanix can help you get more out of edge and IoT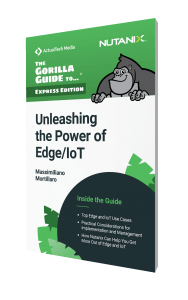 Developed by: ActualTech Media