The Gorilla Guide to... The Changing World of End-User Computing
If you use Desktops-as-a-Service (DaaS) or Virtual Desktop Infrastructure (VDI), you know how challenging it can be to provide both a solid end-user experience, and the kind of management and security necessary to keep your admins from doing nothing but putting out fires all day.
Fortunately, hyperconvergence is a perfect use case for this scenario. It provides the smooth performance users demand, and single-pane-of-glass management and security required from IT.
This Gorilla Guide Express Edition from Nutanix shows you why. It discusses issues like DaaS vs. traditional VDI, licensing considerations, user onboarding, DaaS interoperability, and more. Download it now!
Inside This Express Guide:
How DaaS Is Enabling Better EUC
Top DaaS Use Cases
Why User Experience Is King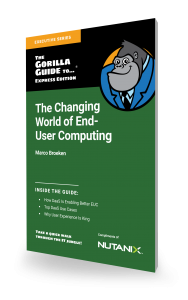 Developed by: ActualTech Media