The Gorilla Guide to... Microsegmentation and Security in the Hyperconverged Enterprise
Hyperconvergence fundamentally changes your IT operations. And one of the most basic ways is in terms of security.
It's not just hyperconvergence itself that's created a new focus on security, but the myriad new threats that have emerged, including ransomware and cyberattacks from all directions, both inside and outside your data center.
That's what this new Gorilla Guide Express Edition from Nutanix deals with. You need to know about the new threats, as well as ways of dealing with them through technologies like microsegmentation and enhanced network visibility. Get more secure—download this book now!
Inside this Express Guide:
How Microsegmentation Has Changed Security
Hyperconverged Infrastructure Fundamentals
A Microsegmentation Primer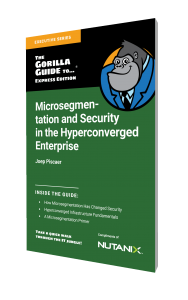 Developed by: ActualTech Media