The Gorilla Guide To…® (Express Edition) How Containers Are Reshaping the Enterprise
More organizations are turning to cloud-native development than ever before. That type of development is enabled through the use of containers. But container management is difficult, which has led to the development of Kubernetes, the industry's leading container orchestration platform.
This book takes a look under the technology hood to learn about Kubernetes concepts and architecture, with special attention to the operational part of running Kubernetes in production.
Highlights include:
The new cloud-native paradigm
Moving to containers: harder, better, faster
A laser-focused Kubernetes managed turnkey service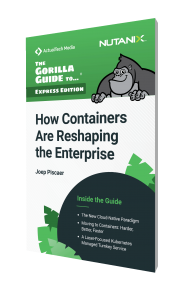 Developed by: ActualTech Media