New Releases
New Release: The Gorilla Guide to…® VMware vRealize True Visibility Suite, Express Edition!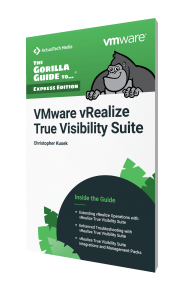 These days, organizations typically deliver their applications over networks. But stating the relationship in that manner is a bit simplistic. From the viewpoint of an operations team—which is responsible for deploying the application, keeping it running continuously, and ensuring good performance—the application and the network are intimately intertwined. Virtualization adds another layer of abstraction.  
This type of infrastructure is necessary nowadays, but it does make the process of diagnosing problems extremely difficult. There are so many moving parts, and those parts are scattered all over the world, that honing in the real issue can be maddening, wasting admins' valuable time. 
That's why VMware's vRealize True Visibility Suite exists. In VMware vRealize True Visibility Suite, Christopher Kusek explains the features of the suite, its highly modular components that facilitate the integration of new products, and how the suite delivers insights. For instance, Figure 1 shows a dashboard combining information from many sources.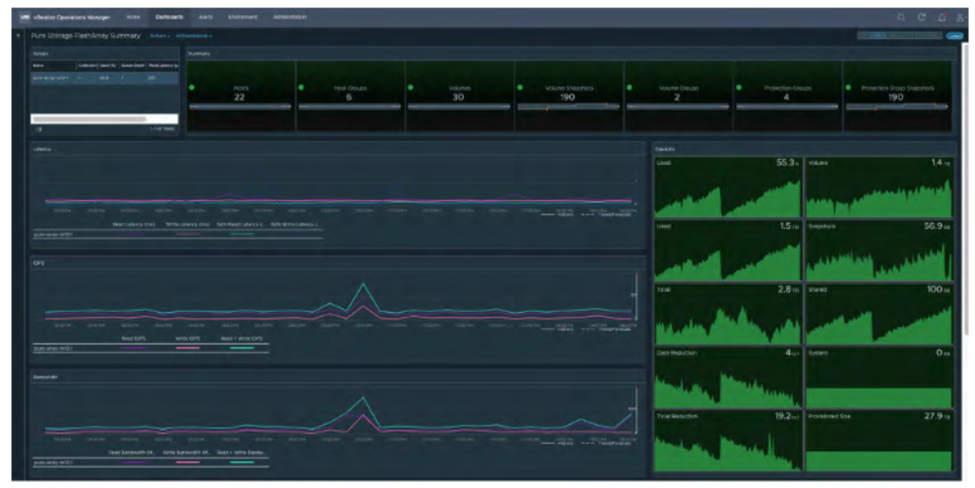 The Gorilla Guide takes you on a tour of VMware's product, showing you the ins and outs, and how to use it to unlock insights that will save you time (and, therefore, money). If visibility into your operations is important to you, it's a book that you need to have in your library.
Inside the Guide
Gorilla Guides make learning and discovery approachable and easy, and they take the guesswork out of navigating complicated IT technologies. Written by an industry expert, and brought to you by VMware, this resource is packed full of trusted information about how to investigate the operations and performance of your VMware service!
 Download the book and learn all about:
What is Offered by VMware vRealize True Visibility Suite in Alerts, Dashboards, and Reports
Features in the Standard, Advanced, and Enterprise Editions
Key Products Covered by the Suite
Table of Contents
Introduction: The Holy Grail of ITOps
Chapter 1: Overview of vRealize True Visibility Suite
3 Editions to Choose From 10
Where vRealize True Visibility Suite Fits into vRealize Operations
The Anatomy of a Management Pack
Depth and Breadth of Vendor Support
Chapter 2: Extending vRealize Operations with vRealize True Visibility Suite
Visibility into the Physical Infrastructure
Mapping Resource Dependencies Across the Full Stack
One-Stop Shop for Troubleshooting and Root Cause Analysis
The Custom Dashboard and You
Chapter 3: Integrations and Management Packs      
The Cisco UCS Management Pack
Querying the SQL Server Management Pack
Unpacking the NetApp Management Pack
Where To Go from Here
About the Author
Christopher Kusek is connected to current and future trends; a strategist who comprehends complex business and technology problems and uses his organization and leadership skills to solve them. An industry-recognized expert, Christopher is a 13-year VMware vExpert, while also an accomplished speaker and author with eight books published. With over 20 years of industry experience spent focused on creating innovative business solutions, Christopher's expertise is integral to his ability to lead his clients to the right solution for their business.
About VMware
VMware vRealize® True Visibility® Suite extends VMware vRealize Operations® to the broader heterogeneous data center, giving you actionable analytics for troubleshooting and enterprisewide, unified visibility. Dozens of validated VMware management packs aggregate operations data from the leading server, storage, compute and database applications into vRealize Operations for rich analytics. This jointly certified coupling of VMware's leading analytics platform and the vRealize True Visibility Suite extensions gives you end-to-end, virtualization-aware visibility into all your resources, regardless of where they reside.
Download the book here!