New Releases
New Release: The Gorilla Guide To…® The Predictive and Proactive Approach to IT Infrastructure Health and Wellness, Express Edition!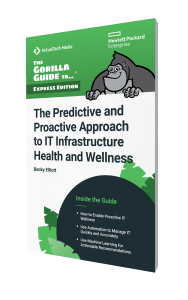 In The Gorilla Guide To…® The Predictive and Proactive Approach to IT Infrastructure Health and Wellness, Express Edition, author Becky Elliott uses health as a metaphor for a computing and network infrastructure that serves an organization's needs. Health and wellness, for a computer platform, means recording what good baseline behavior looks like and noting deviations, just as your doctor warns you that your blood sugar is on the rise before you actually develop diabetes.
Health monitoring for computers nowadays requires automation. Just as the size of modern environments force large companies to automate basic operations such as configuration and scaling, the demands of troubleshooting and capacity planning require automation. An operator looking through log files and calculating on the back of an envelope (or even using fancy computing tools to do these calculations) just can't keep up with the complexity of traffic on virtual systems that come and go and interact heavily.
HPE InfoSight is much more than a monitoring and alerting system (see Figure 1). It guards your infrastructure like a super-analyst, drawing instant insights from observations across all your systems, routers, and applications. Like a human expert, it draws on previous experience—but HPE's wide reach takes this expertise into a new dimension, combining enormous amounts of information from thousands of customers along with the insights derived from all those diverse environments.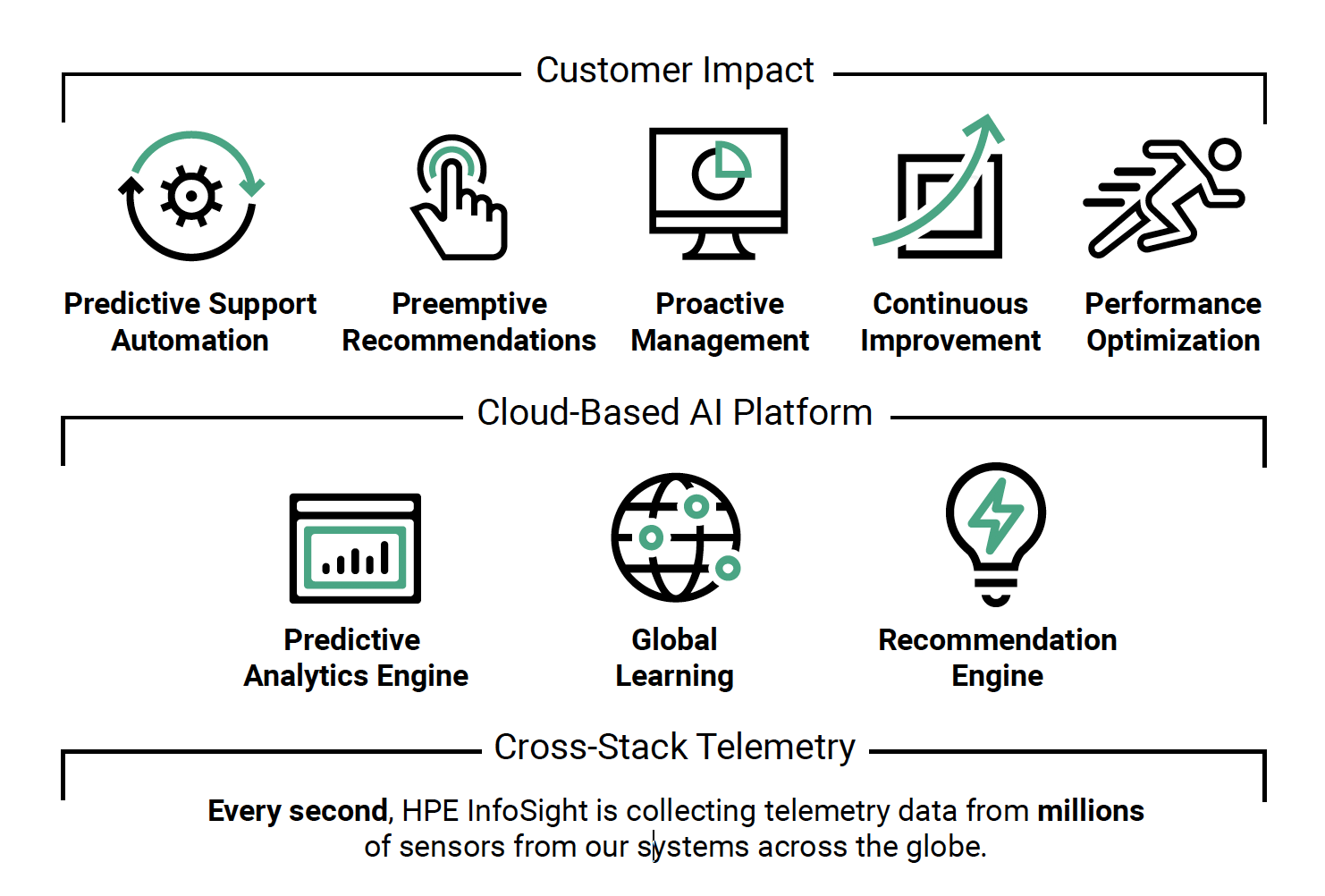 Because of InfoSight's vast knowledge base and AI capabilities, it can warn you when a software or firmware upgrade might break something. It checks for security risks. And it is intimately familiar with a wide range of software and hardware, including HPE's storage appliances. Thus, it's a comprehensive, one-stop tool for installing wellness in your infrastructure.
Inside the Guide
Gorilla Guides make learning and discovery approachable and easy, and they take the guesswork out of navigating complicated IT technologies. Written by an industry expert, and brought to you by Hewlett Packard Enterprise, this resource is packed full of trusted information about maintaining and growing your computing infrastructure!
Download the book and learn all about:
Why Modern Computing Environments Need AI in Operations (AIOps)
Key Features and Benefits of HPE InfoSight
How HPE InfoSight Matured as Its Knowledge and Sophistication Grew
Table of Contents
Introduction
Chapter 1: One AIOps Platform to Rule Your Infrastructure
IT Challenges on Multiple Fronts
The Promise of AIOps
HPE InfoSight Brings Intelligence and Autonomy to Infrastructure and Applications
Learn More About HPE InfoSight
Chapter 2: Proactive Wellness for Your IT Infrastructure
Powerful Protection
HPE InfoSight Enables Proactive Wellness for Infrastructure
The HPE InfoSight Way
Don't Fight IT Fires—Prevent Them Instead
Chapter 3: HPE InfoSight Performance Optimization and Recommendations Maximize IT ROI
Salient Features of HPE InfoSight
An AIOps Evolutionary Journey Trailblazed by HPE InfoSight
Performance Optimization in Action
Evolve Your Workloads with HPE InfoSight
About the Author
After dropping out of a liberal arts college that focused on reading and discussing the "Great Books," Becky Elliott found her way to a career in IT. For 20+ years, she has held a number of roles in Dev and Ops, and the area in between the two. In working for organizations in which poor security practices can cost lives, she's an ardent believer in integrating security through the entire design process. Becky holds a number of industry certifications including the Certified Information Systems Security Professional (CISSP).
About Hewlett Packard Enterprise
Hewlett Packard Enterprise is the global edge-to-cloud platform-as-a-service company that helps organizations accelerate outcomes by unlocking value from all of their data, everywhere. Built on decades of reimagining the future and innovating to advance the way people live and work, HPE delivers unique, open and intelligent technology solutions, with a consistent experience across all clouds and edges, to help customers develop new business models, engage in new ways, and increase operational performance. For more information, visit: www.hpe.com.
Download the book here!