New Releases
New Release: The Gorilla Guide To…® Packet Capture and Analysis in Hybrid Environments, Express Edition!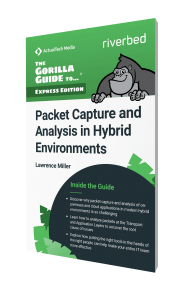 Modern software systems that combine complex applications with sophisticated networks make it increasingly hard to trace a problem. Is a slowdown caused by the application, by the way it's loaded into a browser, or by the architecture of the network? Effective tracing tools must look at many levels, and connect individual packets with the applications and hosts that generate and consume them.
In "Packet Capture and Analysis in Hybrid Environments", author Lawrence Miller has provided a real treat. He poses a typical network performance problem as a mystery case, solved by the story's hero by viewing graphs and analyses at many levels from the depths of TCP up to the level of web browsers. You'll cheer along with the corporate employees as the narrator uncovers the true perpetrator and identifies remedies.
The tool demonstrated for this exploration is Riverbed Packet Analyzer Plus. It uses sophisticated analysis to operate at multiple layers: tracing TCP/IP packets, displaying server response times to requests (see Figure 1), showing the bandwidth used by each application, displaying the stages of transactions, and much more.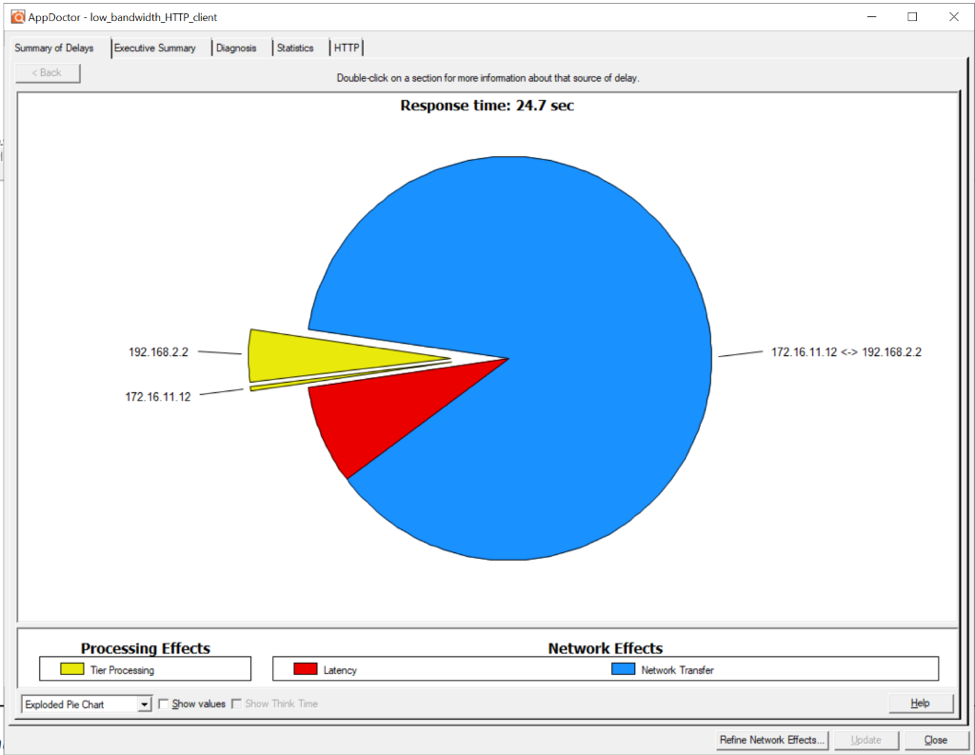 Miller shows how a powerful and well-integrated diagnostic tool such as Riverbed Packet Analyzer Plus can derive solutions from raw data. He covers the major components of Riverbed Packet Analyzer Plus and their benefits. Don't ever look at log files again—instead, choose a diagnostic tool that meets the needs of modern networks and applications.
Inside the Guide
Gorilla Guides make learning and discovery approachable and easy, and they take the guesswork out of navigating complicated IT technologies. Written by an industry expert, and brought to you by Riverbed, this resource is packed full of trusted information about how to troubleshoot network failures and performance problems!
Download the book and learn all about:
Tracing problems through multiple hybrid systems
The tools that are most appropriate for each layer and component of the application
Moving from individual network activities to a holistic understanding of sessions and transactions
Table of Contents
Introduction
Chapter 1: A Primer on Packets
Looking at Packets and Packet-Switched Networks
Understanding the Open Systems Interconnection (OSI) Model and Packet Encapsulation
Addressing Modern Packet Capture and Analysis Challenges
Chapter 2: A Packet's Tale: The Case of the Slow Web App
The Game Is Afoot
Examining Packets at the Transport Layer
Analyzing Packets at the Application Layer
Putting It All Together: Time to Find Out Who the Real Villain Is
Chapter 3: Force Multipliers: Making Your Smart People More Effective
World-Class Packet Analysis
Beyond Capturing Packets
Performing Magic with AppResponse
Delivering Better Business Outcomes
Get More Production and Less Frustration
About the Author
Lawrence Miller, CISSP, has worked in information security and technology management for more than 25 years. He has previously worked as the Vice President of IT for a major Verizon reseller, director of IT and e-commerce for a retail merchandising company, and IT operations manager for a top 100 U.S. law firm. He is the author of more than 200 books on various topics including information security, cloud, unified communications and collaboration, storage, 5G, and the Internet of Things.
About Riverbed
Riverbed enables organizations to maximize performance and visibility for networks and applications, so they can overcome complexity and fully capitalize on their digital and cloud investments. The Riverbed Network and Application Performance Platform enables organizations to visualize, optimize, remediate, and accelerate the performance of any network for any application. The platform addresses performance and visibility holistically with best-in-class WAN optimization, network performance management (NPM), application acceleration (including Office 365, SaaS, client and cloud acceleration), and enterprise-grade SD-WAN. Riverbed's 30,000+ customers include 99% of the Fortune 100. Learn more at riverbed.com.
Download the book here.