New Releases
New Release: The Gorilla Guide to… Out-of-Band Management for Business Continuity and Branch/Edge Networking Control, Express Edition!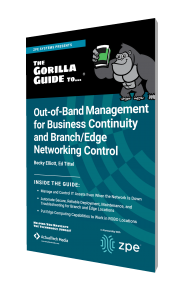 Everybody groans when their 90-year grandmother calls in the middle of a snowstorm to say that her hot water went off, and could her son come to get it working again. The same headaches cost companies a lot of time and money when their networks fail. Therefore, an integrated system that can remotely monitor and fix branch office networks can significantly reduce down time, as well as the cost for fixing the problem.
The basic solution (to networking, that is—perhaps not to Grandma's hot water heater) is Out-of-Band Management (OOBM). This has been recognized for decades as a robust way to keep services up. Thus, most embedded boards provide a special set of pins for JTAG, which permits debugging when the main connection refuses to work.  And the telephone companies instituted common channel signaling (CCS) long ago to allow control over the telephone network on a line that is separate from the customers' phone calls.
ZPE Systems offers a modern approach to OOBM for modern corporations with remote offices and the need for continual installations and monitoring of software (see Figure 1). Out-of-Band Management for Business Continuity and Branch/Edge Networking Control discusses the value of OOBM and Zero Touch Provisioning (ZTP), which replaces staff visits, to ensure robustness, security, performance, and simplified management. This report also discusses the importance of automation and the value of consolidated management through ZPE's Nodegrid console. The report shows that OOBM offers much more than monitoring: it's good for installation, backups, and more.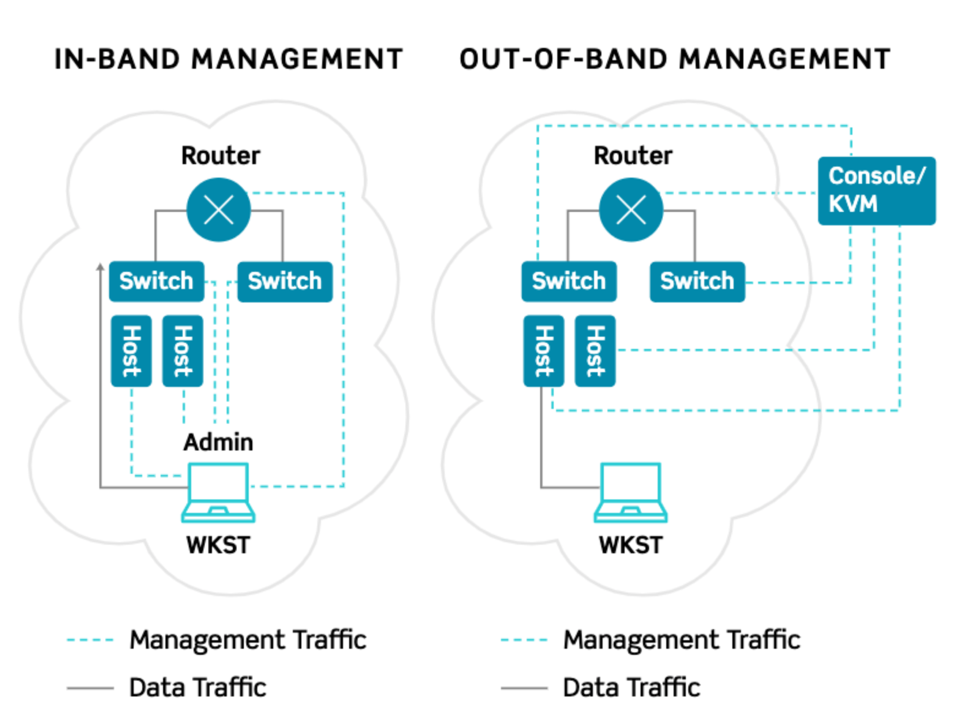 Inside the Guide
Gorilla Guides make learning and discovery approachable and easy, and they take the guesswork out of navigating complicated IT technologies. Written by an industry expert, and brought to you by ZPE, this resource is packed full of trusted information about the uses for cloud-based Out-of-Band Management!
Download the book and learn all about:
The Role of Out-of-Band Management in Modern Corporations
How Unified Out-of-Band Management Reduces Downtime and Costs
Architectural Choices, Including Cloud Deployment and VPNs
Table of Contents
Introduction: Backups for Your Backups
Chapter 1: Out-of-Band Management 101
Unified Management
Multiple Device Management
Typical OOBM Users
Chapter 2: The Role of Out-of-Band Management: Today and into the Future
Automation Helps Organizations Streamline Processes
Zero Touch Provisioning Leads to Consistency and Scalability
Put OOBM, Automation, and Autonomous Networks to Work
Chapter 3: Out-of-Band Networking Design: Best Practices
OOB Network Setup
Why Separate Production and Management Networks?
How OOBM Transforms Network Management
How to Manage OOBM Elements: Serial Links, Servers, Power, and VMs
Chapter 4: Out-of-Band Management and the Cloud
Basic Principles of Management
Understanding the Management Console
Data Center Management
Understanding Management Software and Its Touchpoints
How Is Branch Management Different?
Chapter 5: Deploying to the Branch
Cloud-Based Deployment
Get Better ROBO Management Today
Chapter 6: Maintaining Branch Deployments
The Role of OOBM in the Branch
Benefits of Cloud-Based Maintenance
Working Through Routine Maintenance
Many Means of (Remote) Access to the Branch
Chapter 7: Optimizing Branch Deployments
Nodegrid, ZPE Cloud, and SR Devices
Typical Branch Requirements
Putting SD-Branch in Place
Best Remote Deployment and IT Practices
Making the Most of ZPE Cloud
Chapter 8: Branch Out-of-Band Management Is Deployed: Now What?
Understanding SD-Branch
Putting SASE to Work
Nodegrid Delivers a Ready-to-Run SASE Platform
360-Degree Coverage with ZPE
About the Author
Ed Tittel is a long-time computing industry writer and consultant. A contributor to more than 100 computing books, and many, many articles, blogs, and other materials, Ed writes and posts regularly online. His areas of expertise include networking, cybersecurity, Windows OSes, markup languages, and Web development.
After dropping out of a liberal arts college that focused on reading and discussing the "Great Books," Becky Elliott found her way to a career in IT. For more than 20 years she has held a number of roles in Dev and Ops, and the area in between the two. In working for organizations in which poor security practices can cost lives, she's an ardent believer in integrating security through the entire design process. Becky holds a number of industry certifications, including the Certified Information Systems Security Professional (CISSP).
About ZPE Systems
ZPE Systems frees enterprises from today's networking challenges.  Cumbersome environments, frequent downtime, and inefficient management are no match for ZPE Systems' Nodegrid, a vendor-neutral platform that lays the groundwork for open networking. Created by visionary engineers, Nodegrid's patented hardware and software empowers companies to transform their networks into business value creators.
ZPE collaborates with best-in-class technology partners, to add value by integrating with SD-WAN, firewall, IoT, and other solutions. The world's top companies trust ZPE Systems to provide advanced out-of-band management, Secure Access Service Edge (SASE) platforms, and SD-Branch networking.
Based in Fremont, California, and with offices in Ireland, India, and Brazil, ZPE Systems is ready to help enterprises take the work out of networking. Visit the ZPE Systems website to explore Nodegrid. www.zpesystems.com
Download the book now!