New Releases
New Release: The Gorilla Guide to…® Network Visibility with VMware vRealize Network Insight, Express Edition!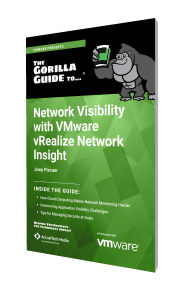 Maybe your database runs on an in-house corporate server, but communicates 3,000 times per hour with a customer-facing application that runs on a dozen remote cloud services in different locations. If you're asked to double the capacity, can you predict the impacts on network use and response time? Now suppose management decides to move the database servers into the cloud and asks you to predict the impact?
System administrators are used to generating a diagram for flows through a single router, or for a single network. It's a whole new level of complexity to manage huge, hybrid, highly distributed environments. Network Visibility with VMware vRealize Network Insight describes the many factors that go into modern network administration, and the machine learning-based solutions offered by VMware vRealize Network Insight.
vRealize Network Insight doesn't just trace multiple systems on a wide range of devices from different vendors and cloud services (including, of course, VMware installations). It knows what traffic belongs to each application. It looks at patterns, such as which VMs communicate with each other most often, to find the boundaries around the application. It's even smart enough to figure out what services are the back-end (such as your database) and set up their firewalls automatically so only authorized applications can communicate with them. And it can divide the services into multiple tiers, protecting each with customized firewall settings.
Often, the key to such insight lies in millions of tiny pieces of metadata, such as vCenter or AWS tags and configuration information. vRealize Network Insight combines knowledge of all these things. It can determine specialized functions such as firewalls and load balancers, and understands Kubernetes concepts and categories. Figure 1 shows how you can view dependencies between nodes and applications.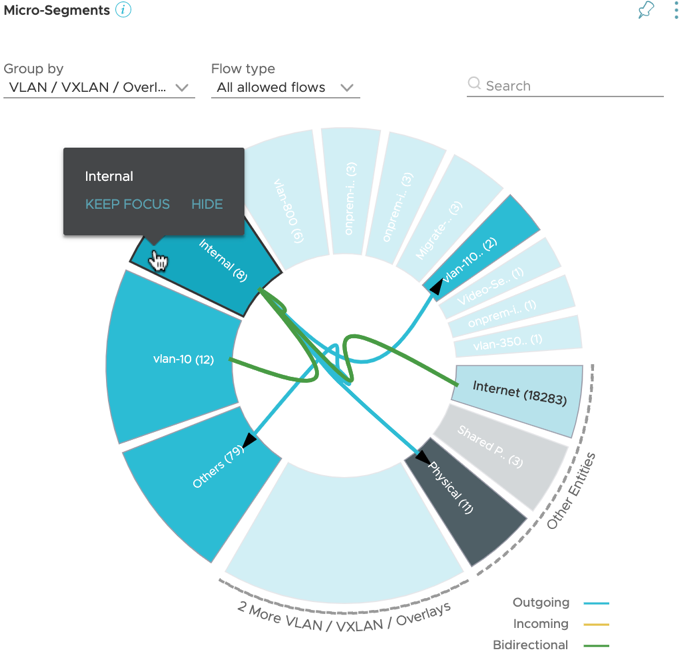 There are many more possibilities for filtering and searching, which support both routine investigations of performance bumps and alerts for potential problems. Network Visibility with VMware vRealize Network Insight shows the newest features of this tool, along with how it supports common tasks such as cloud migration.
Inside the Guide
Gorilla Guides make learning and discovery approachable and easy, and they take the guesswork out of navigating complicated IT technologies. Written by an industry expert, and brought to you by VMware, this resource is packed full of trusted information about how to predict bottlenecks, performance limitations, and potential network problems!
Download the book and learn all about:
The Problems of Administering Hybrid Network Environments
How You Can Drill Down into Performance Problems
Implementing Micro-Segmentation for Security on a Large Scale
Table of Contents
Introduction: Clouds Make It Harder To See
Chapter 1: Hybrid Cloud Complexity
Current Networking Challenges
vRealize Network Insight
Chapter 2: Gaining Application Visibility
Application Discovery and Visibility
Dependency Mapping
Plan for Micro-Segmentation
The Donut Deep Dive
Automatically Generated Firewall Rules
In Search Of …
Entities and Projections
Audit Trails
Chapter 3: Cloud Migration
Plan for Cloud Migration
Lower Operational Risks
vRNI and HCX
Chapter 4: Day-to-Day Operations
Troubleshoot and Optimize Performance
Tackling Virtual and Physical Network Bottlenecks
Manage Network Configuration and Health
Assurance and Verification
Monitoring Public Clouds
Managing Cloud Security
Kubernetes
VMware SD-WAN
Mission Control for Mission-Critical Network Visibility
About the Author
Joep Piscaer is a technologist with team building and tech marketing skills. His background includes roles as diverse as CTO, cloud architect, infrastructure engineer, and DevOps culture coach. He is the founder of TLA Tech, a tech marketing firm focusing on cloud-native operations. He blogs at virtuallifestyle.nl.
About VMware
VMware vRealize Network Insight and vRealize Network Insight Cloud (SaaS) comprise VMware's solution for end-to-end network visibility, troubleshooting, and predictive analytics. vRealize Network Insight supports use cases across the Software Defined Data Center, VMware NSX, VMware SD-WAN by VeloCloud, VMware Cloud on AWS, Azure, AWS, and Kubernetes. vRealize Network Insight is a tool that can troubleshoot applications down to traffic flows and the network stack. vRealize Network Insight's analytics minimizes risk during application migrations, optimizes network performance, and confidently manages the scaling of NSX deployments. The VMware vRealize® Network Assurance and Verification️and VMware vRealize Network Insight Cloud Assurance and Verification capability models the network to maximize uptime and validates that business intents are compliant in the network.
Download it now from our free library of technical ebooks, Gorilla.Guide.