New Releases
New Release: The Gorilla Guide to…® Moving Forward in a Work-From-Anywhere World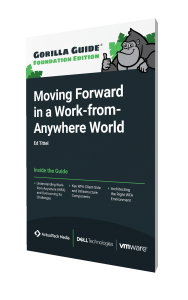 The crisis caused by COVID-19 has probably been the most wrenching change that businesses have ever had to absorb in a short time. Naturally, a lot of research has already been done to determine how the lockdowns have affected productivity and how companies have adapted. The most common finding, reflected in a Forbes.com article, is that productivity has not suffered, and sometime increases. A more cautionary article in the Harvard Business Review cites research suggesting a wide range of effects on different companies. Companies that improved productivity during the pandemic did so because their cultures and organizational practices adapted—and creative use of technology was one of the factors in success.
In Moving Forward in a Work-from-Anywhere World, author Ed Tittle focuses on the computing and networking infrastructure that companies should put in place to support their remote workers. He starts with the challenges posed by scattered employees who need to communicate securely and effortlessly over the internet. He then steps through the pieces a company needs to facilitate communications in a secure manner: virtual desktop infrastructure (VDI), cloud support and so on.
Inside the Guide
Gorilla Guides make learning and discovery approachable and easy, taking the guesswork out of navigating complicated IT technologies. Written by an industry expert, and brought to you by Dell and VMware, this resource is packed full of trusted information about secure support for remote work!
Download the book and learn all about:
Elements of the Workplace Infrastructure That Need to be Replaced or Reproduced
Components Of Secure Networking for Remote Work
Technologies for Security and Protection of Data and Communications
Table of Contents
Introduction: Understanding Work-from-Anywhere
Challenges to Work-from-Anywhere
The Client Perspective
The Infrastructure Perspective
Architecting the Right WFA Environment
About the Author
Ed Tittel is a 30-plus year veteran of the IT industry who writes regularly about cloud computing, networking, security, and Windows topics. Perhaps best known as the creator of the Exam Cram series of certification prep books in the late 1990s, Ed writes and blogs regularly for GoCertify.com, TechTarget, ComputerWorld, and other sites. For more information about Ed, including a resume and list of publications, please visit EdTittel.com.
About Dell and VMware
We know your organization needs to drive results to achieve and sustain a competitive advantage. Modernizing IT infrastructure allows organizations to become more agile, efficient, and productive. Deliver the agility your business needs with Dell Technologies and VMware. Independently, we are leaders in the field with innovation and experience. Together, we have a 20+ year history of co-engineered solutions to deliver any application on any device from datacenter to edge to cloud, all with a secure foundation that enables your digital future. For more information please visit: www.DellTechnologies.com/VMware.
Download the guide here!