New Releases
New Release: The Gorilla Guide to Better Business Continuity with Out-of-Band Management!
Welcome to the IT Jungle! ActualTech Media is proud to announce The Gorilla Guide to …® Business Continuity with Out-of Band Management!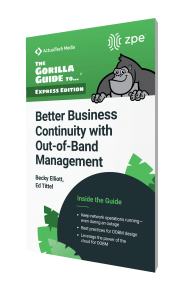 Out-of-Band Management (OOBM) is technology that allows you to connect to devices via an alternate path that's disparate from the in-band network, whereas in-band management relies on connecting to devices via telnet, Secure Shell (SSH), or Remote Desktop Protocol (RDP) from within the local network on which the hardware lives. See Figure 1 for a comparison. Further, OOBM provides higher-level, aggregated, and remote access and control capabilities for multiple devices from a single management point.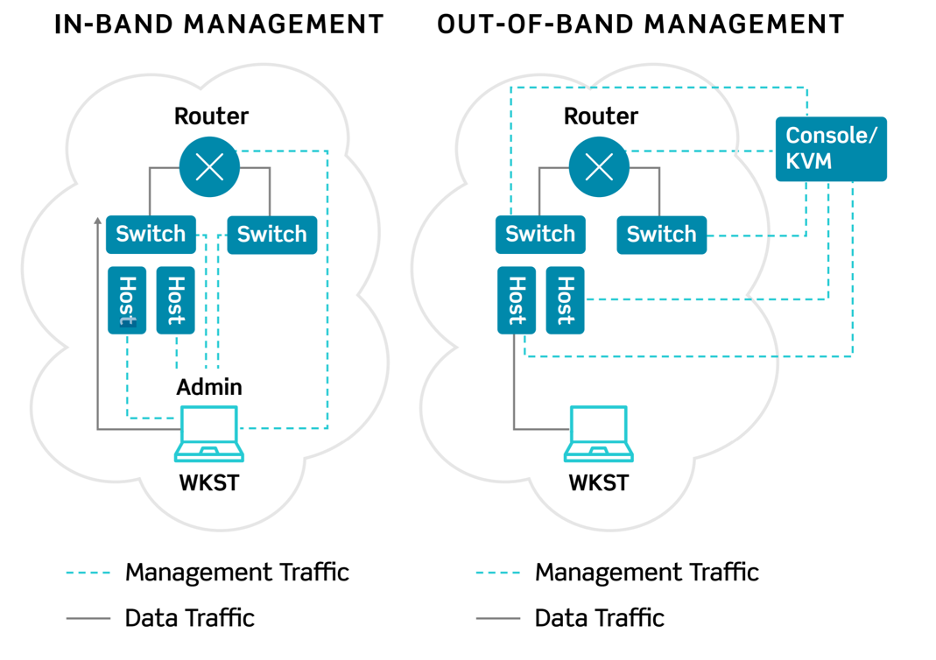 If you are an admin who is looking to simplify the management of multiple devices from a variety of vendors with a single management system, this Gorilla Guide is just what you have been searching for! This new book, created in partnership with ZPE Systems, uses a no-nonsense approach to help you better understand the importance of out-of-band management and how to avoid costly downtime and data breaches with a secure approach to enterprise network management.
Inside the Guide
Gorilla Guides make learning and discovery approachable and easy, and they take the guesswork out of navigating complicated IT technologies. Written by industry experts, this resource is packed full of trusted information that shows you how to leverage out-of-band management to keep your network fully operational at all times.
Key points provided with this guide:
Detailed information about Out-of-Band Management and typical users
How automation and zero touch provisioning can benefit your organization
Tips for proper set up of an OOB network and then how to manage it
Different principles of management and how the cloud factors in
Using the management console
Table of Contents
Introduction: Backups for Your Backups (Average Read Time: 2 minutes)
Chapter 1: Out-of-Band Management 101 (Average Read Time: 13 minutes)
Unified Management
Multiple Device Management
Typical OOBM Users
Chapter 2: The Role of Out-of-Band Management: Today and into the Future (Average Read Time: 17 minutes)
Automation Helps Organizations Streamline Processes
Zero Touch Provisioning Leads to Consistency and Scalability
Put OOBM, Automation, and Autonomous Networks to Work
Chapter 3: Out-of-Band Networking Design: Best Practices (Average Read Time: 20 minutes)
OOB Network Setup
Why Separate Production and Management Networks?
How OOBM Transforms Network Management
How to Manage OOBM Elements: Serial Links, Servers, Power, and VMs
Chapter 4: Out-of-Band Management and the Cloud (Average Read Time: 26 minutes)
Basic Principles of Management
Understanding the Management Console
Data Center Management
Understanding Management Software and Its Touchpoints
How Is Branch Management Different?
Get Started with ZPE
About the Author
After dropping out of a liberal arts college that focused on reading and discussing the "Great Books", Becky Elliott found her way to a career in IT. For 20+ years, she has held a number of roles in Dev and Ops, and the area in between the two. In working for organizations in which poor security practices can cost lives, she's an ardent believer in integrating security through the entire design process. Becky holds a number of industry certifications including the Certified Information Systems Security Professional (CISSP).
Ed Tittel is a long-time computing industry writer and consultant. A contributor to over 100 computing books, and many, many articles, blogs, and other materials, Ed writes and posts regularly online. His areas of expertise include networking, cybersecurity, Windows OSes, markup languages, and Web development.
About ZPE Systems
ZPE Systems brings more than 100 years of combined experience in data center and branch networking. Using their innovative Nodegrid platform—the in­dustry's first open infrastructure management solu­tion—ZPE transforms the enterprise network into a business value creator. The world's top companies trust Nodegrid for in-depth out-of-band capabilities, Secure Access Service Edge (SASE), and SD-Branch networking.
For a more flexible and future-proof network in­frastructure, get started with ZPE Systems today.