Uncategorized
New Release: The Gorilla Guide® To… Achieving IT Asset Management Success
Do you know how many of your computer systems, desk furniture, and other assets you'll need to replace next year? Such knowledge is key to good asset management and therefore cost-effective operations. Ed Tittel's in-depth guide, The Gorilla Guide® To… Achieving IT Asset Management Success, can show you how to reach this level of insight.
Research finds that good asset management can save your organization 5% per year, and even twice that amount at the start. Asset management also helps you avoid trouble like discovering that your staff failed to comply with license requirements when they upgraded a system.
Asset management applies to your compute resources as well as your physical ones, and to cloud computing resources just as much as your on-premises ones. A unified platform (Figure 1) can provide the holistic view you need of these resources. It can help you overcome "silos" to achieve more efficient use of resources, and synergy between teams.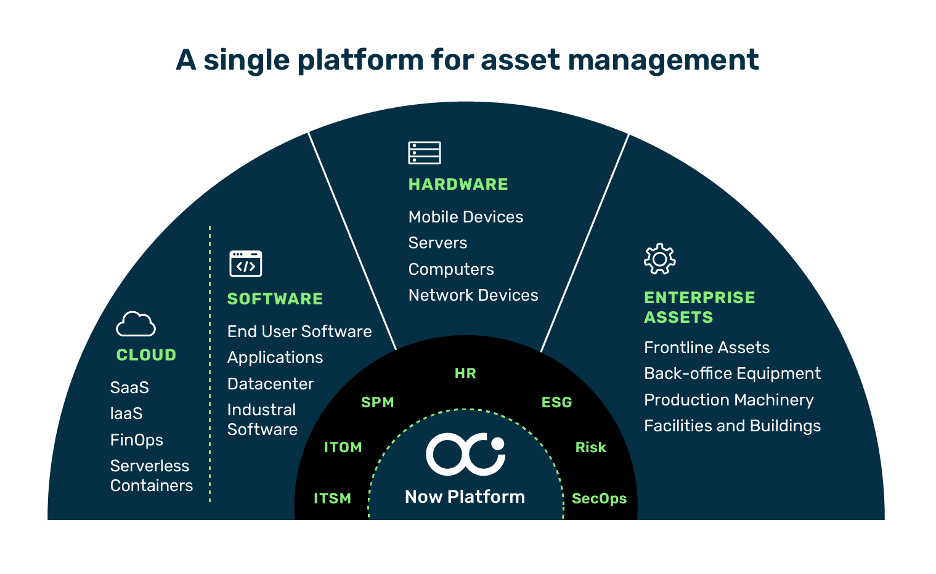 Figure 1: A single platform puts all IT elements under the same umbrella, and provides a consistent, coherent view across the entire organization
On the other hand, you can't use your database of assets properly if it's disorganized. Tittel describes how to organize each type of asset (software, hardware, cloud, services) and the value of automating activities in asset management. This turns your list of assets into a true "portfolio," available for sophisticated planning and compliance.
Your asset management portfolio can improve security, by revealing unknown or obsolete computer systems (software reconciliation). It can help you meet environment, society, and governance (ESG) goals. You can automate routine tasks such as getting a new employee all the equipment and permissions they need.
Tittel takes you on a recommended path to installing an effective asset management system, starting with a roll call of your current assets and then constructing a strong business case for each optimization or growth plan. A lifecycle for computer equipment and services is laid out. Tittel also suggests a graduated roll-out of asset management itself.
This far-reaching book also introduces ServiceNow, showing how it can uncover problems such as licensing, identify applications you no longer need, and improve your operations in other ways. Case studies show the contributions made by particular ServiceNow components.
Inside the Guide
Gorilla Guides make learning and discovery approachable and easy, and they take the guesswork out of navigating complicated IT technologies. Written by an industry expert, and brought to you by ServiceNow, this resource is packed full of trusted information about asset management!
Download the book and learn all about: 
Where Many Organizations Fall Short on Asset Management
The Relation of Asset Management to the Lifecycle of Computers and Other Assets
How To Organize Managers Around an Asset Management Strategy
The Role of Automation
Table of Contents
Introduction: The Continuing Importance of Asset Management
Chapter 1: Challenges with Managing IT Assets      
Reactive Mode Rules How Business (Mostly) Works
3 Big Gotchas
Possible Investment Inefficiencies
How Does Application Portfolio Management Fit into ITAM?
IT Asset Management Offers Relief
Chapter 2: Understanding Asset Management and the Role of EAM      
What Asset Management Really Means
The Asset Management Savings Equation
Anticipating and Preparing for Audits and Inspections
Avoiding Unnecessary Expense
How a Single Platform Simplifies Asset Management
Benefits of an End-to-End Asset Journey
Chapter 3: Starting Down the Asset Management Road
Examine the Current Business Environment
Establish Business Cases
A Clear Picture of Assets and Exposures
Piloting the Process
Measuring and Sharing Success
Chapter 4: Make Asset Management Work for You
Introducing Software and Hardware Asset Management to an Organization
Inventory Hardware and Software
Asset Normalization
Digging into and Rationalizing Contracts, Entitlements, and Warranties
Reconciling the Data
Putting Asset Management to Work
Fixing What's Broken
Case in Point: Community Health Systems
Chapter 5: Managing the Asset Management Process
Understanding the Asset Management Lifecycle
Understanding Workflows and Automation
Chapter 6: Getting Your Assets Right
The Software Inventory
The Hardware Inventory
Dealing with Cloud and SaaS Subscriptions
Shining a Light on Shadow IT
The Enterprise Asset Management Story
Chapter 7: Asset Strategies, License Planning and Handling
Seeing All Your Assets
Creating a Strategy for Your Asset Portfolio
The License Manager's Manifesto
Meet the Asset Management Workspace
Detailing Your Current Licensing Position
Establishing License Priorities and Handling
Working with Publisher Packs
Armed for Licensing Battle
Software Reconciliation
Chapter 8: Gain Influence by Sharing Asset Data
Asset Data and Security
Asset Data and Risk Management
Asset Data and ESG
Asset Data and Employee Experience
Asset Data and Customer Experience
Chapter 9: Making the Most of Automated Workflows
Automation's Basic Benefits
Automating HR Workflows with Asset Management
Automating APM processes with Asset Management
Process-Driven Management Basics
Integrating Asset Management into Change Management
Chapter 10: What Asset Management Does for a Business
Seeing Clearly Across All Assets vs. Flying Blind
Final Thoughts
About The Author
Ed Tittel is a 30-plus year veteran of the IT industry who writes regularly about cloud computing, networking, security, and Windows topics. Perhaps best known as the creator of the Exam Cram series of certification prep books in the late 1990s, Ed writes and blogs regularly for GoCertify.com, Win10.Guru, ComputerWorld, and other sites. For more information about Ed, including a resume and list of publications, please visit EdTittel.com.
About ServiceNow
ServiceNow makes the world of work, work better for people. Its cloud-based platform and solutions deliver digital workflows that create great experiences and unlock productivity for employees and the enterprise. For more information, visit: servicenow.com/ITAM.