The Gorilla Guide to... Oracle Licensing
Oracle's licensing policies are incredibly complex, and even punitive should a company get it wrong. This Gorilla Guide Express To… Oracle Licensing will help make sure that doesn't happen to your organization.
It drills down on the ins and outs of the Oracle licensing maze, and walks you through the petrifying and dreaded "Oracle Audit," providing clear advice on how to prepare for it. If your company uses Oracle, then this book is your new best friend.
In this Express Guide:
How Oracle spreads fear, uncertainty, and doubt
7 ways you might trigger an Oracle audit and how to avoid doing so
The importance of having a licensing partner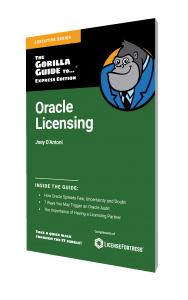 Developed by: ActualTech Media