The Gorilla Guide To…® Secure IT for Small and Midsize Businesses
In today's rough-and-tumble business landscape, IT security isn't just "nice to have"—it's absolutely and positively essential.
This Guide provides a general overview of small to midsize business (SMB) security needs and requirements, including an assessment of key SMB security challenges, with suggestions on how they might be addressed. It also digs into the topics of business continuity, to explore how and why keeping business going in the face of interruption or outage is key. Learn how HPE's built-in and trusted security technologies are ready for you to put them to work in your business.
Highlights include:
SMB security can be difficult (and costly)
Exploring new security challenges for SMBs
With business continuity becoming increasingly critical, you need to understand how to put it to work for your business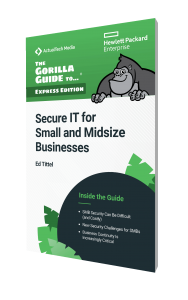 Developed by: ActualTech Media