The Gorilla Guide to... Modernizing Data Analytics
Data analytics is undergoing a revolution, but many companies are slow to join. Those who wait risk getting left behind.
There are great new tools to help organizations transform their data into a more usable, actionable asset, and technologies by HPE and Vertica can get you there—faster than you might think.
Download your copy now!
Inside the Guide:
Get More from Your Analytics
The Power of Hadoop and Vertica
Dive Deep into HPE's Turnkey AI Solutions Platform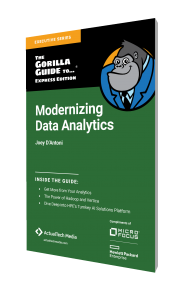 Developed by: ActualTech Media