The Gorilla Guide To…® AI-Driven Operations with HPE InfoSight
This Gorilla Guide explains how organizations can take a predictive and proactive approach to managing IT, using a health and wellness-oriented outlook. Along the way, it digs into understanding the challenges that modern IT operations face, and how employing an artificial intelligence (AI)-driven IT operations model based on health and wellness can improve responsiveness, reduce downtime and performance delays, and foster a more innovative, user-forward approach to IT service delivery. It also explains the key role that automation plays in establishing and maintaining IT wellness, and how data-driven insights, predictions, and recommendations can steer IT organizations to better performance, improved use of resources, and a better ROI on their IT infrastructure investments.
This Guide will also explore how organizations can use AI and machine learning (ML)—together (AI/ML)—to let historical performance data create and maintain a comprehensive view of their IT assets that supports management, troubleshooting, optimization, and planning for future growth and expansion.
Highlights include:
Proactive Wellness for Your IT Infrastructure
Boost IT Performance, ROI, and Planning with AI/ML-Driven Management
Understanding Cross-Stack Analytics and Optimizing Workloads Through the Infrastructure Stack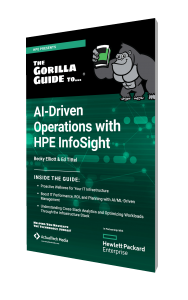 Developed by: ActualTech Media