The Gorilla Guide to... Hybrid Cloud With Hitachi Vantara and VMware
Cloud computing—and especially multi-cloud computing—brings IT administrators face-to-face with the reality that complexity in IT is about more than just technology. IT teams have to face a reality in which the very infrastructure de­signs they're responsible for have not only technical considerations, but human and end-user considerations, as well as legal, business process, and supply chain ones.
In this Gorilla Guide, Hitachi Vantara and VMware demonstrate that installing, configuring, and managing IT infrastructure for multicloud computing can be a simple process with the right vendor tooling and support.
In this Guide:
Why organizations are moving to the hybrid cloud model
The ways hybrid clouds introduce more complexity
How you can combine Hitachi and VMware to solve these challenges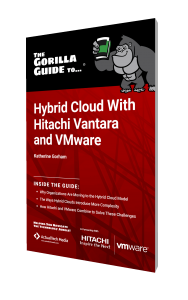 Developed by: ActualTech Media