The Gorilla Guide to... Taking Data to the Edge
Take the mys­tery out one of the most important emerging areas of IT infrastructure and get a firm grasp of the ins and outs of edge computing. This Gorilla Guide Express to Taking Data to the Edge explores how several large companies in different industries are applying edge technology and computing to solve real-world problems.
In this Guide:
Smart cities: Some forward-thinking U.S. cities are implementing "smart" infrastructures, with strate­gically placed devices, to provide better service for its residents and visitors.
Sports and entertainment: We'll show you how MLB and Flexential take fans to the next level of interactiv­ity, creating a better experience for fans.
Smart health: You'll see how edge technology is being leveraged to report real-time monitoring of patient health, resulting in more effective treatments that even save lives.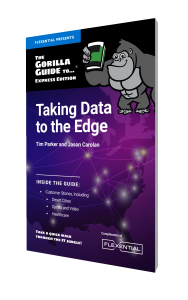 Developed by: ActualTech Media