The Gorilla Guide To…® Streamline Data Management with US Signal and Cohesity, Foundation Edition
Organizations find themselves awash in data everywhere on a variety of fronts. The role of securing and keeping the data available often falls to overworked IT teams. Data management is a tough job, but there are turnkey solutions that can lessen the operational burden.
This Gorilla Guide from US Signal delves into the three primary categories of data management challenges that organizations face and why a managed solution may lead to better outcomes with less effort.
Highlights include:
Key data management problems organizations face
The most important aspects to consider when securing your data
Details of service offering of Cohesity Data Management from US Signal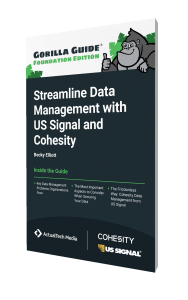 Developed by: ActualTech Media