Gorilla Guide® (Foundation Edition): Understanding the 2021 Enterprise IT Landscape
From looking at a remote-first workforce with increasing audio/visual demands to Software-as-a-Service (SaaS) applications replacing their legacy on-premises equivalents and vastly changing networking and security architectures to support remote workers: Supporting end users has never been more challenging.
And let's not forget the continuing force that is Kubernetes, commoditizing cloud computing across the organization and leading to a Platform-as-a-Service (Paas) renaissance.
This Gorilla Guide will help you navigate the Enterprise IT Landscape in 2021.
Highlights include:
A thorough look at how remote-first work impacts enterprise IT
How Kubernetes is creating standard for cloud platforms, PaaS, and edge computing alike
Why cloud landing zones are an important part of your cloud strategy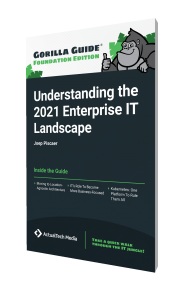 Developed by: ActualTech Media