Prolonged Recovery and Expansion The Gorilla Guide® To… Enabling Small and Midsize Business IT
The recent pandemic is impacting the very core ideas of how we do modern business, accelerating the prioritization of e-commerce by a few years. The paradigm shifts catalyzed by it will not be a fleeting trend; the business landscape will be forever changed from now and into the future.
This Gorilla Guide presents a handful of core principles to prioritize in order to adapt and remain relevant and competitive in the rapidly advancing e-commerce landscape.
Highlights include:
How SMBs can recover and expand
Going green is going competitive—responsible SMBs are the future
People and culture: workforce development vs. recruitment and turnover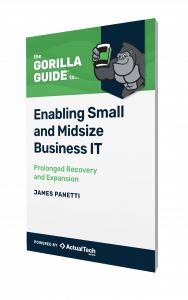 Developed by: ActualTech Media