How To Stay Vigilant, Current, and Educated The Gorilla Guide® To… Navigating the Security Landscape
Security is a topic that generates fear in the hearts of IT professionals. No one wants to be in the headlines for the next major security breach.
In this book you'll find a review of the major focus areas for IT security and what you can expect to take center stage now and into the future. Included is a set of actions that you can take to tighten your security environment and some long-term direction for security technology in general.
Highlights include:
The current state of security
What the security landscape looks like
The long-term outlook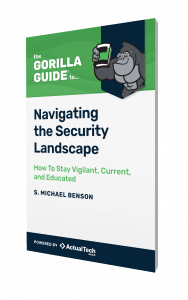 Developed by: ActualTech Media