Gorilla Guide® (Foundation Edition): Navigating Cloud and Multi-Cloud Environments in 2021
Hybrid and multi-cloud environments, although growing in use, have changed little until the past year. New cooperation between public cloud providers has sparked innovation in cloud management tools that opens the door to more cloud development and a blending of physical and cloud-based appliances.
This Gorilla Guide discusses the changes in cloud computing due to the pandemic, and details where the industry is headed in 2021 and beyond.
Highlights include:
How the cloud has enabled the work-from-home explosion
Sorting out hybrid cloud vs. public cloud vs. multi-cloud
Where edge computing fits into all this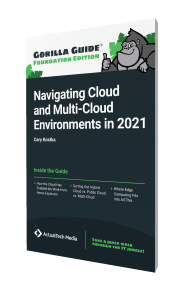 Developed by: ActualTech Media