Remote Work: The New Normal? The Gorilla Guide® To… Navigating IT Evolution and Modernization
The worldwide pandemic hasn't so much changed IT modernization as it has accelerated it. Moves already underway to adopt technologies like cloud computing, AI, and DevOps were kicked into overdrive when remote work became the norm for the industry.
This Gorilla Guide shows you what you need to know about these trends—how they started, where they are now, and where they're going now and beyond.
Highlights include:
Remote work: the new normal?
Understanding the API revolution
The future promises of artificial intelligence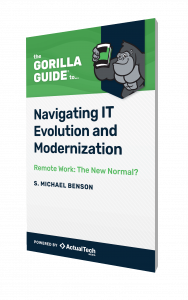 Developed by: ActualTech Media