The Risks and Challenges of Edge Computing The Gorilla Guide® To… Navigating Edge Computing
As 5G makes Internet of Things (IoT) scalable and the COVID-19 pandemic makes greater automation desirable, the current state of IT is an inflection point for edge computing.
Deploying at the edge of the network will require different infrastructures and approaches to the cloud. This raises several challenges for the IT organization, including how it will work with business units and operational technology teams, and how it will ensure the edge is secure.
This Gorilla Guide surveys the current trends in edge computing.
Highlights include:
The impact that the pandemic is having on edge deployments, and the role that 5G will play
Delivery models for edge computing, available from a range of providers, including cloud service providers, telcos, and content delivery networks
The risks and challenges of edge computing, including the organizational, management, and security challenges the new infrastructure presents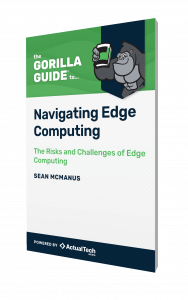 Developed by: ActualTech Media